Bellows couplings from Ruland Manufacturing
Bellows couplings from Ruland Manufacturing offer a high degree of accuracy and repeatability for renewable solar energy applications including test and measurement, wafer handling, panel processing, and vision systems for PV and CPV cell, panel, and thin-film production equipment.
---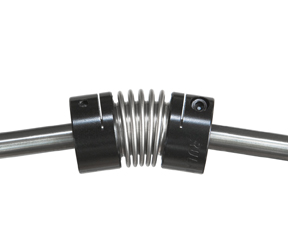 The combination of anodized aluminum hubs with a stainless steel bellows results in a lightweight, low inertia coupling that remains stiff under torsional loads. A balanced design reduces vibration for high speed applications up to 10,000 rpm. Bellows couplings are able to accommodate all types of misalignment with low bearing loads due to the thin stainless steel walls of the bellows. They are zero backlash and have no moving parts, allowing for a long, maintenance free life and making them ideal for high end stepper or servo driven systems.
Ruland offers clamp or set screw style bellows couplings with straight, stepped, or inch to metric bores ranging from 1/8" to 1" (3 mm to 25 mm). Stainless steel hubs, keyways, and other custom design features are available by special order.
Ruland Manufacturing was established in 1937 and for the past 40 years has focused on designing and manufacturing high performing shaft collars and couplings. All metallic Ruland products are made in its Marlborough Massachusetts factory under strict controls using proprietary processes. The complete line of products includes shaft collars and rigid couplings, and a full line of zero backlash motion control couplings: beam, bellows, oldham, disc and curved jaw.