SK Hand Tool begins shipping tools
SK Hand Tool LLC announced its first shipments of sockets, ratchets, screwdrivers, wrenches and specialty tools to distributors and mobile tool dealers since the SK brand was acquired by Ideal Industries Inc. in August 2010.
---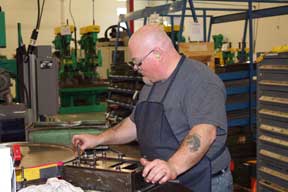 The tools -- many manufactured using original dies from now-shuttered SK Hand Tool plants in Chicago and Ohio -- are being produced in a newly-built, state-of-the-art headquarters in Sycamore, Ill., and in Colorado Springs, Colo.
"SK is an iconic American brand that we are proud to continue manufacturing in the United States," said Doug Spitler, vice president/general manager of SK Hand Tool LLC. "We're excited to show mechanics the SK brand is alive and well, and in fact, better than ever."
Along with building a new 130,000-square foot facility in Sycamore, Ideal has invested in advanced metalworking and CNC machinery to guarantee superior tool quality, and has refurbished essential equipment salvaged from SK plants. "Modern management practices, such as small batch and one piece flow manufacturing, are being applied, resulting in world-class quality and on-time shipping capabilities to SK dealers and distributors, and ultimately, greater end-user satisfaction," according to a company press release.
SK Hand Tool LLC, as the company is now known, will manufacture the full line of SK brand tools popular with professional mechanics.