SK Hand Tool reintroduces ratchets
SK Hand Tool LLC, a subsidiary of IDEAL Industries Inc., has reintroduced the full line of SK-branded ratchets and ratchet sets featuring original SuperKrome plating.
---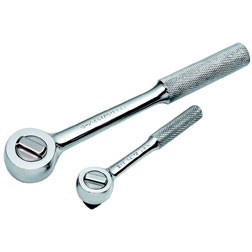 In addition to giving SK tools their distinctive jewelry-like finish, SuperKrome provides mechanics with enhanced ease of clean-up and maximum corrosion resistance.
Founded in the early 1900s, SK Hand Tool was acquired by IDEAL in August 2010 and operates today as an independent subsidiary. The reintroduction of the famous SK ratchet design with SuperKrome marks another step forward in re-establishing the brand as America's premier toolmaker for professional mechanics. SK tools are Made in America in Illinois and Colorado.
Available in both metric and standard inch sizes, SK ratchets feature a completely enclosed ratcheting mechanism that is simple to remove and replace for cleaning or rebuilding. Triple tooth contact provides smooth ratcheting action with little back movement, while the hardened pawl and teeth assure durability and a long service life. For better handling, even while oily, all SK ratchets feature diamond-knurled grips. Chamfered ends help lead the socket over fastener heads.