Snap-on Industrial Brands catalog
The new Snap-on Industrial Brands catalog includes detailed information on more than 7,100 professional tool and equipment items.
---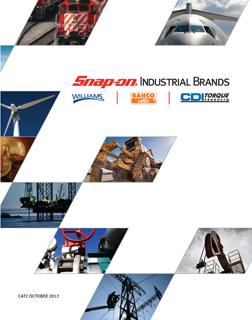 The new 596-page catalog, coined Catalog 2, includes a complete listing of Bahco's bandsaw blade offering (more than 275 blades), making it easier to specify the correct bandsaw blade for technicians' exact application. The catalog also contains Snap-on Industrial Brands' full assortment of tool storage, torque tools, hand tools and specialty products – giving industrial technicians the biggest selection of tools and equipment available on the market today.
Features of the Snap-on Industrial Brands Catalog 2 include:
Full selection of tools within the Snap-on Industrial Brands family of tools: Bahco, Williams, and CDI Torque Products
New selection of master tool sets designed specifically for the petroleum, oil and natural gas markets
Tool storage identification guide to select the best tool storage unit for every application
Detailed information on hammers, punches, chisels, prybars and other specialty tools and equipment
Large color photos of thousands of tools and equipment items with easy-to-read information on product code, sizes and descriptions
Torque charts and useful information on the principles of torque and how to apply it to everyday applications
Product code index and alphabetical tool index to pinpoint exact page number for specific tools and equipment