Stafford Staff-Lok shaft collar
Stafford Manufacturing Corp. introduced a new, lever-actuated shaft collar for non-rotary applications.
---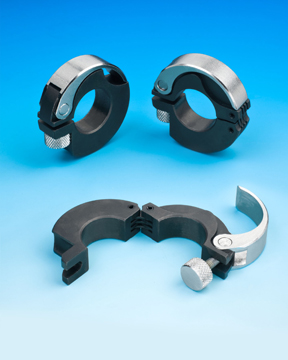 It is easy to remove and requires no tools, making it ideal for automation and EOAT.
The Staff-Lok Shaft Collar features an integral hinge with a conformal cam lever and a knurled screw that provides complete adjustable clamping without tools. This hinged collar is ideally suited for use as a clamp, stop or spacer in non-rotary applications such as automation equipment or EOAT (end of arm tooling) where ease of use and fast clamping are required.
Simple to relocate or remove by just lifting the cam lever, moving, and tightening, the Staff-Lok Shaft Collar is machined from steel in 1/2" to 4" I.D. sizes. It can also be supplied with custom bore designs for joining flanges and with custom features for attaching sensors or other devices. A one-piece design is also offered.
The Staff-Lok Shaft Collar is priced according material, size, and quantity.