Stoko Kresto Cherry hand cleaner
Stoko Skin Care by Evonik now offers Kresto, its flagship heavy-duty hand cleaner, in a cherry- fragranced formula.
---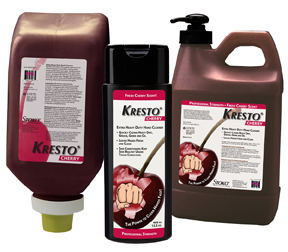 "Kresto Cherry offers users the trusted high-quality and high- performance hand cleaning they expect from Kresto with the new benefit of a fresh cherry scent," states Ron Shuster, product line manager. "The fragrance helps eliminate odors left by industrial chemicals and petroleum products, leaving hands both clean and fresh."
Formulated with skin conditioners and skin-compatible synthetic detergents, Kresto Cherry quickly cleans heavy dirt, grease, grime, and oil while keeping skin healthy. It also contains natural and renewable biodegradable walnut-shell scrubbers tested and proven not to clog drains.
"The most valuable tools for workers are their hands," observes Lori Huffman, marketing manager. "We believe the benefits that Kresto Cherry provides – its time-tested cleaning performance, which is unparalleled, and its cherry fragrance, which rids the hands of the day's work – will provide the ideal heavy-duty hand cleaner."
Kresto Cherry will be available in a 2000ml SoftBottle and a half-gallon pump bottle, as well as a toolbox-sized 400ml squeeze bottle.