Streamlight Knucklehead Spot
Streamlight introduced a new version of its innovative Knucklehead work light, the Knucklehead Spot.
---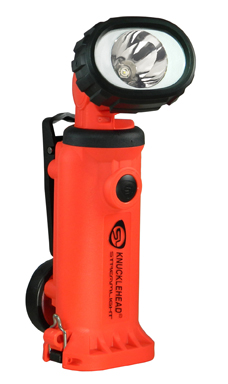 The new light, featuring C4 LED technology, penetrates dense smoke, fog and mist with up to 11,000 candela to give first responders a superior level of visibility at a fire or accident scene.
"The far-reaching beam of the Knucklehead Spot can help fire and rescue personnel and industrial firefighters locate hazards or victims from a distance when navigating in smoke-filled areas or in low-light environments," said Streamlight vice president, sales and marketing, Michael F. Dineen. "And its articulating head gives users more flexibility when working in situations with changing conditions."
The rechargeable Knucklehead Spot features a single parabolic reflector designed to provide a tighter beam for long-range target illumination. Microprocessor-controlled technology provides multiple modes of operation, including high and low intensity, strobe and a long-running moonlight mode.
On the high setting, the Knucklehead Spot delivers 180 lumens measured system output, with a runtime of 3 hours and 30 minutes. On the low setting, the light provides 55 lumens and a runtime of 16 hours, and will run continuously for 20 days in moonlight mode and for 8 hours on the strobe setting. The C4 LED is impervious to shock and features a 50,000 hour lifetime.
The light's articulating head can rotate a full 360 degrees, and pivot up and down 210 degrees, offering an unparalleled ability to direct light wherever it is needed. The Knucklehead Spot can be used as a traditional flashlight, right-angle light or anywhere in between. It features a spring-loaded clip for easy attachment to clothing or gear, and a removable circular magnet with a 135-pound pull strength that can be attached to most contoured steel surfaces.
The Knucklehead Spot operates on a nickel-cadmium 4.8 volt, 1.8 Ah, 4 cell sub-C battery that can be recharged up to 1,000 times, and comes with an optional four "AA" alkaline battery carrier, providing a fast and readily available secondary power source when needed between charges. It is available with steady and fast chargers designed for use with AC or DC power sources. The light also is available in an alkaline battery model which uses four "AA" batteries.