Streamlight updates safety ratings
Streamlight Inc. announced that it has updated the safety ratings for two of its popular right-angle lights, the Survivor LED and Knucklehead.
---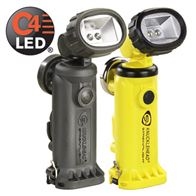 Safety ratings are established by government agencies and independent standards and testing organizations to assist manufacturers and consumers.
"Any flashlight that will be used in a hazardous environment or confined space should be properly tested to meet or exceed all applicable safety standards for those locations," said Streamlight president and chief executive officer Ray Sharrah.
"Streamlight flashlights are tested and approved by the world's leading independent laboratories, and provide assurance that the light you select will be safe in the environments in which you use it. These improved safety ratings for two of our most popular lights are a reflection of our commitment to provide the safest lights possible."
Sharrah said the Survivor LED Alkaline recently received approval from the Mine Safety and Health Administration (MSHA). The MSHA rating is based on testing for safety in methane-air mixtures, a common environment for mine workers. The new rating applies when the Survivor LED is used with Duracell and Energizer AA alkaline batteries.
The Survivor LED is a lightweight, hand-held light with a right-angle head designed for use in hazardous locations such as mines, fire scenes, underground utilities and petrochemical environments.
The Knucklehead work light now has a Division 2 rating from SGS-USTC. The new rating applies to all Knucklehead rechargeable and alkaline models with hook or clip. The new rating is: Class I, Division 2, Groups A, B, C, D; Class II, Division 2, Groups F, G; Class III, Temp Code: T4.