Stronger magnification lens
Gateway Safety now offers an even stronger magnification lens option for workers needing bifocal vision correction and eye protection.
---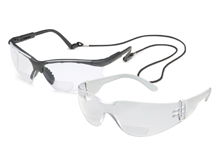 A clear 3.0 diopter lens option is available on two bifocal eye protection styles, Scorpion MAG and StarLite MAG. Both are available in five diopter strengths: 1.0, 1.5, 2.0, 2.5 and 3.0. Bifocal safety eyewear allows workers needing extra magnification to clearly read instrumentation and documents, work with small parts, or perform other close-at-hand tasks.