Protect against extreme heat
New from Superior Glove, these gloves combine three high-performance materials to protect against extreme heat.
---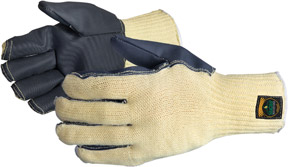 Cut- and flame-resistant knit Kevlar gloves have Temperbloc palms and feature an insulating layer of SilaChlor, Superior's revolutionary new heat-resistant material, in between. The gloves offer more dexterity than a mitt when the heat is on.
COMMENTS: 0
---