Tamper-proof mark products
ITW Dymon has expanded its Dykem Cross Check Tamper Proof Torque Mark products to include five brilliant colors: dark pink/red, yellow, blue, green and orange.
---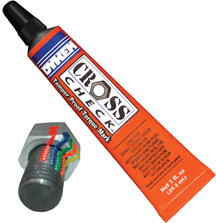 The colors are highly visible under ambient conditions and strongly fluoresce under black light for rapid detection. Dykem Cross Check is easily applied by squeezing the 1 oz. tube. It creates a bead of color that seals nuts, bolts, fasteners, assemblies and controls, and adheres well to most surfaces, including moist or oily substrates. Changes in torque or operating settings caused by vibratory loosening or tampering can be determined quickly by checking the brightly colored marks for cracks, breaks and misalignment.