Timken releases three catalogs
The Timken Company released three new catalogs, highlighting expanded Timken cylindrical, spherical and tapered roller bearing product lines.
---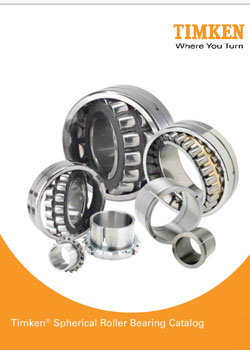 The new catalogs complement Timken's recent portfolio expansion, including its technology-leading tapered roller bearings, the introduction of several hundred new cylindrical roller bearing part numbers, more than 1,500 new high-performance spherical roller bearings and 200-plus shaft sizes for the Timken SAF split-block housed unit line.
The catalogs provide customers with up-to-date product and performance information, reflecting the portfolio expansion. Released in a new modular format, the catalogs also are easier-to-use.
Online versions of the product catalogs are available at timken.com. There, 3D models and 2D drawings are also available, searchable by keyword or part number for selected Timken tapered, cylindrical and spherical roller bearing products and housed units.
"We've created these resources to accommodate the changing needs of our customers and the recent growth we've experienced in our product lines," said Amanda Montgomery, director – marketing and product management – Process Industries. "The new modular approach to our product catalogs and the online models provide a better format for showing the actual performance levels of our products and make it easier for customers to find the information they need."
The catalogs include:
Timken Tapered Roller Bearing Catalog, featuring high performance tapered roller bearings for use in vehicles, gearboxes, drills, crushers and other industrial applications.
Timken Spherical Roller Bearing Catalog, which includes design details and increased speed- and load-rating information for high-performance Timken spherical roller bearings. It also features an updated accessories offering, additional shaft sizes for Timken SAF pillow blocks and a complete listing of among the largest brass-cage offerings in the bearing industry.
Timken Cylindrical Roller Bearing Catalog, which features updated technical data and performance information on standard Timken cylindrical roller bearings. It also includes information on the Timken single-row EMA series, an extended line of NCF full-complement single-row bearings and a new line of four-row bearings.
"By highlighting our product enhancements, we're enhancing Timken's position as a technology leader," said Montgomery. "We're also reinforcing our commitment to offer a dramatically broader range of high-performance products."