United Abrasives SAIT Encore flap discs
United Abrasives' SAIT Encore High Performance Regular Density flap discs feature more and larger flaps than competing regular density discs for longer life.
---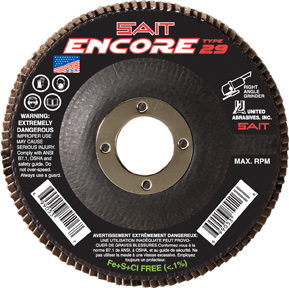 They are made with premium zirconium abrasive material that provides long-life, high stock removal and will not contaminate stainless steel. Grind, blend and finish with one product that out-performs competitive regular density flap discs and resists loading on aluminum — unique in the industry.