Weiler Tiger Paw abrasive flap discs
Weiler's new Tiger Paw abrasive flap discs are designed for aggressive performance on tough edge grinding applications.
---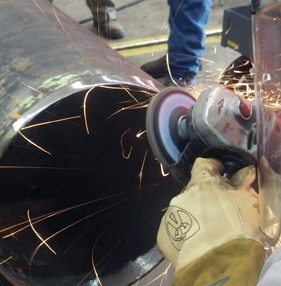 These 100% zirconium flap discs last 30-40% longer than competitive standard zirconium flap discs due to both a high performance grain and special poly cotton backing that provides superior grain retention. This unique combination gets the job done faster and more efficiently.
The Tiger Paw's multiple layers of coated abrasive material expose sharp, fresh grains as they slowly wear away, and the 100% premium zirconium grain prevents premature grain shedding on aggressive applications, resulting in increased productivity and reduced operating costs.
Weiler's phenolic back Tiger Paw is available in 4-1/2", 5" and 7" sizes with or without a 5/8"-11 nut in both Type 29 & 27 standard and Type 27 super high density (4-1/2" & 7" Only) configurations. The Type 29 configuration is made for the toughest, most aggressive applications. The super high density Type 27 configuration contains 35-40% more flaps for increased flexibility, extended life and lower operator fatigue. Popular uses for the Tiger Paw include pipe beveling, edge chamfering, weld blending, grinding, deburring, stock removal, surface finishing and blending.