Weiler brushes for 4 1/2-inch angle grinders
Weiler Corporation offers a full assortment of high-performance, American-made wire brushes engineered specifically for use on 4-1/2" right angle grinders.
---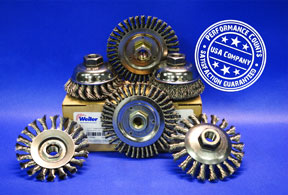 Weiler's assortment of high-performance power brushes for use on 4-1/2" angle grinders includes:
The 4-1/2" Mini-Roughneck Stringer Bead Wheels feature a high knot count and short trim length to produce the fastest, most effective cleaning action and longest product life on your 4-1/2" grinder.
The Dually™ 4-1/2" Weld Cleaning Brush features a dual-hex nut design to simplify periodic flipping of the wheel for maximum efficiency in demanding inter-pass weld cleaning applications.
Standard Twist Knot Wire 4" Bevel Brushes feature a tufted knot end and a saucer-shape design which provides an aggressive-yet-flexible brushing action for cleaning filet welds and into corners.
Weiler's Knot Wire and Crimped Wire Cup 3-1/2" Brushes feature the highest quality construction and materials for maximum performance and long life when cleaning large surfaces.