Posted April 8, 2022
Williams QuickFit Tool Organization System
Williams is bringing new ways to organize tools with the new Williams QuickFit Tool Organization System.
---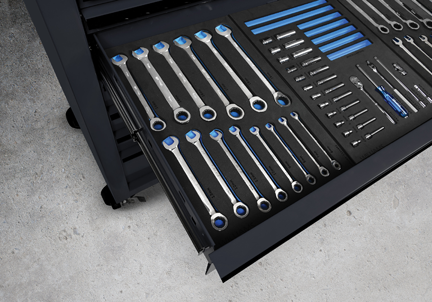 This online configuration tool and organization system provides quick, easy identification of tools and helps optimize the workspace and keep the shop organized.
Williams QuickFit tool sets come with strong, trusted industrial tools industrial applications need to get the job done safely.
"Williams builds on 140 years of experience to design tool sets that best meet the needs of folks working in industrial environments," said Mike Bogdanovic, product manager. "By adding the Williams® QuickFit Tool Organization System to our tool offering, Williams brings a higher level of organization enabling a shop to be safer and more efficient while employees can focus on the job."
Convenience, access and tool organization are at the heart of the Williams QuickFit system. Laser-cut industrial-grade foam is used to create modular drawer- inserts, keeping tools ready and always organized the way the user wants them.
With over 40 different foam combinations, you can quickly select the right set that best meets your needs. These foam inserts fit the Williams 40" roll cab and come in three dimensions: 1/3, 2/3 and full drawer size. With the different combinations and drawer dimensions available, Williams QuickFit makes it fast and easy to build an ideal workspace.
Customers can use the Williams QuickFit online configurator to create their ideal workspace by selecting their foam inserts and toolbox, if needed. The configurator walks customers through the selection process from the start; from the color of their box to the foam configurations for each of the seven drawers.