Diamond tools for high-speed cutting
Performance Diamond Products introduced Xlerator High Performance Diamond Tools.
---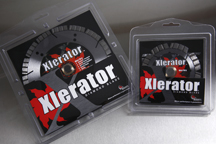 They combine high-quality raw materials and specialized design for high-speed cutting and long life without overheating. A vented core design reduces heat, increasing life. Large diamond segments increase life. Designed for concrete, masonry and stone in diameters from 4 inches to 36 inches.