sia very fine maroon handpad
sia Abrasives Inc. USA announced the release of its new 5,500-piece "Bulk Boxes" of the 6"x9" Very Fine Maroon handpad available Jan. 1, 2013.
---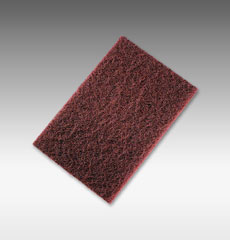 "Our Very Fine grade of Maroon handpads are one of our best selling items and an industry staple. We're happy to offer our customers the opportunity to grow their handpad business at a significant cost savings with this new configuration," said sia USA general manager, Joseph Smith. "This is also a smarter packing solution for a cleaner environment – this new configuration uses nearly 85% less cardboard packaging material and 20% less volume versus 20-pack boxes, shrink-wrapped three to a case."
The bulk box contains 550 shrink wrapped packs of 10 pads. Each pack of 10 includes a printed color insert with sia branding. sia Abrasive handpads are comprised of compressible nylon fibres impregnated with abrasive grain. Bonded with a synthetic resin, they will not rust and are washable. Additionally, due to their open structure, the handpads resist loading and offer extended life.