Posted January 12, 2023
Auto-darkening welding helmets
Weldcote, a division of Zika Group, has improved the clarity of its Klearview welding helmet line, providing high-quality, cost-effective options for welders.
---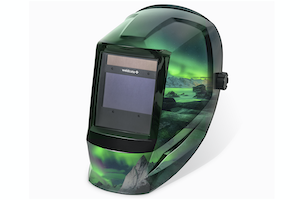 Weldcote's Klearview helmet line now features an industry-leading optical clarity classification of 1/1/1/1 in its viewing area of 3.94- x 2.36-inch (9.3 square inches). Klearview helmets have a "TRUE COLOR" feature that improves visibility and reduces eye strain for users. The high-quality LCD and multilayer optical interference filters provide permanent UV/IR protection.
The welding helmets have a 0.1 to 0.8 second switching time from light to dark. Made of a high-impact resistant nylon and weighing only 1.2 pounds, the helmet is powered by a solar cell with a replaceable 3-volt lithium battery backup. Adjustable headgear comes standard.
Klearview helmets are available in both analog and digital (Klearview Plus).
"Improving our Klearview helmets to offer the highest optical clarity, while being cost effective enables new welders to have the best quality helmet in order for them to do their jobs better, safer and faster," said Joe O'Mera, CEO of Weldcote Metals.
The Weldcote helmet collection includes its premium Ultraview Plus and cost-effective Econoview line models, as well as replacement headgear, programmable and standard lens cartridges, lithium batteries and interchangeable inside or outside lens covers.
All Weldcote helmets feature an industry-leading three-year warranty.