U-Grooved Nylast industrial track wheels
U-Grooved track wheels from Hamilton Caster are designed for easy rolling along straight or curvy tracks or pipes. With a capacity range of 1,000–7,000 pound, U-Groove Wheels are a great solution when working with crane cables or pulleys, or using rolling gates and doors.
---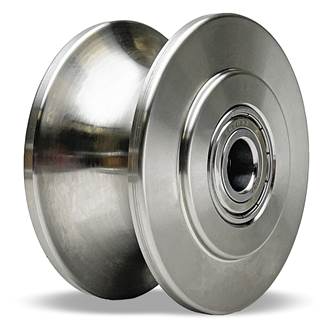 They're also common in food services, washdown, and other industries where tubed tracks are commonplace.
"We saw a large volume of Hamilton customers special ordering our U-Grooved industrial track wheels so we decided to add them to our everyday product offering," said Mark Lippert, president of Hamilton Caster. "We will now manufacture the wheels more efficiently and shorten their lead time, providing a big win for our customers."
Hamilton engineers designed this track wheel with flexibility in mind. The new U-Grooved Track Wheels come in standard sizes ranging from 4 to 10-inch diameters in three materials: steel, stainless steel, and nylon. This series of wheels offer a variety of groove depths and widths that accommodate a wide range of pipe sizes and track materials. Each wheel is fitted with precision-sealed ball bearings for easy rolling and maintenance-free operation.
Hamilton's Steel U-Grooved Wheels, machined from 1045 steel, are the strongest, most durable of the series, and provides the highest load-bearing capacity.
The Stainless Steel U-Grooves are machined from Type 303 stainless steel. This makes them ideal for harsh, corrosive environments such as chemical and food processing plants, and pharmaceutical operations.
Hamilton's Nylast U-Groove wheels are made from solid cast high-performance nylon, specially formulated with finely divided particles of molybdenum disulfide (MoS2) to enhance its load-bearing capability while maintaining impact resistance. The U-Grooved Nylast Wheel is resistant to moisture and chemicals while providing necessary floor protection. This results in an industrial wheel well-suited for corrosive environments or applications where sanitary conditions are important.
Optional accessories include custom machined bores with keyway and/or set screws, as well as slick poly or rubber-coated treads. Hamilton can also machine custom sizes up to 25-inch diameters and other materials to match your exact specs. Should a size or configuration not be a standard, Hamilton will always custom design and build what is needed.