Posted March 10, 2023
MultiVolt cordless brushless hammer drill kit
A new 18V Brushless Hammer Drill Kit from Metabo HPT includes two 2.0Ah batteries featuring fuel gauges (DV18DEX).
---
The hammer drill delivers 10% higher working speeds and comes with Reactive Force Control (RFC) for added safety. In addition, it has the shortest overall length in its class at 6.1 inches, improving the maneuverability for tight working conditions.
It's part of the expanding MultiVolt System of 18V and 36V power tools from Metabo HPT. The user can go lighter by using the included compact 18V battery or go longer with a flexible 18V/36V MultiVolt battery (sold separately) to double runtime per charge* for more power on the gO. It's backed by Metabo HPT's Lifetime Lithium-Ion tool body warranty for peace of mind. MSRP: $179.97.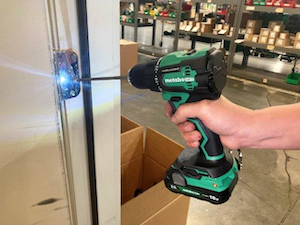 The brushless motor delivers more runtime and extended durability with essentially no maintenance. With 620 in-lbs of torque, 2,000 RPM and 30,000 impacts per minute, this hammer drill powerfully tackles applications like driving and removing machine screws, wood screws, tapping screws, along with drilling into various metals, wood, brick, and concrete block with ease. For added safety, this hammer drill offers anti-kickback along with Reactive Force Control that senses tool overload and stops the bit rotation in the event of a bound bit.
It also features a metal belt hook that can be moved to either side ofthe tool for user preference. The keyless metal chuck ensures a strong grip on the bit and offers easy bit replacement. A 22+2 stage clutch has settings for drilling or hammer drilling with a high and low gear, so the user can dial in the right amount of power for the application. At only 2.6 lbs, it's lightweight to reduce user fatigue.
This 18V hammer drill kit comes with two of the new Metabo HPT 18V 2.0Ah Lithium-Ion batteries with fuel gauges- model BSL1820M (377797M) for convenience. They've included a built-in LED light that effectively illuminates dark workspaces and an extremely ergonomic tool body.
This 18V hammer drill kit includes two 18V 2.0Ah batteries with fuel gauges, battery charger, Phillips Bit #2, carrying bag, and comes with a lifetime tool body warranty, 2 year battery warranty and one- year charger warranty for a complete grab and go tool kit.