Treston ergonomic lifting platform
The new Treston lifting platform brings ergonomic adjustability to working environments with no possibility of adjusting the height of workstations due to the connection of rigid infrastructures such as conveyor technology, machines and tools.
---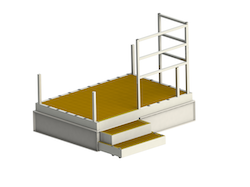 To ensure necessary ergonomics, a lifting platform can be integrated into different working environments to adapt the working height to the requirements of the employees, the task, or the items being processed.
The idea for the Treston lifting platform developed from requirements from various logistics projects. With the new platform, Treston expands its range of modular, adaptable products, thus following the one-stop-shop idea and once again demonstrating its solution competence and service orientation.
Treston's lifting platform can be adapted to customer-specific needs and can also be integrated into existing intralogistics environments.
In addition, there are often problems with the certification of work environments when different suppliers are involved. Treston's lifting platform including the working environment is supplied with full CE certification.