Posted March 20, 2023
Easy-to-install reverse bayonet coupling
A new reverse bayonet coupling connector from Amphenol Industrial Operations is easy to install in the field, making maintenance effortless. The GTC-E Series, based on Amphenol's GT Reverse Bayonet Coupling Connector Series, is ideal for use in rail and mass transit, heavy equipment, machine tools, and factory automation applications.
---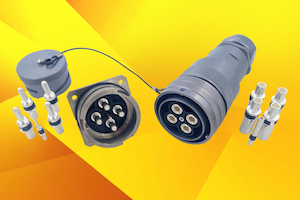 This reliable new connector features a UL94-V0 hard plastic insert, and an easy-to-install and easy-to-remove crimp contact that uses industry standard crimp tooling to make on-site repairs and maintenance simple.
The connector's rugged design can withstand the harshest environments while supplying high current power and signal. The GTC-E series includes a quick positive coupling that allows for fast mating and un-mating of connectors, an audible and tactile indication of full coupling for safety, and crimp termination that provides a stronger, more reliable termination method than soldering.
The connector features high shock and vibration capabilities making it suitable for high power connections. For higher amperage, lower t-rise, less resistance, and lower mating forces in a smaller footprint, RADSOK socket contacts are available.
The GTC-E Series has an operating temperature range of -40°C to +125°C. It can withstand up to 500 mating cycles.