Posted March 20, 2023
Versatile MultiDRILL line for job shops
A full line of 3XD and 5XD high-quality solid carbide multipurpose drills from EMUGE-FRANKEN USA are ideal for a wide range of materials and applications typically found in high-mix, low-volume job shop environments.
---
"Our extensive research and testing has resulted in a completely new high penetration rate drill design providing everyday use and maximum productivity," said Marlon Blandon, product manager, drills, thread milling.
EMUGE MultiDRILL is made of a unique sub-micro grain carbide grade that is harder than conventional carbide grades for drilling, yet it retains the ability to withstand shock and chipping. MultiDRILL features advanced TIALN-T63 coating utilizing nano-layer technology with surface hardness exceeding standard TIALN-based coatings, for reduced friction at high temperatures.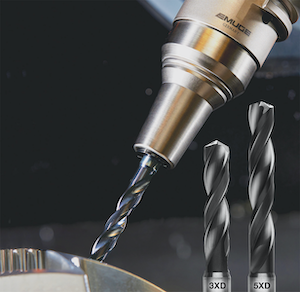 Featuring concave cutting edges, MultiDRILL has higher chip shearing ability and a tightly controlled edge preparation process that provides consistent performance and long tool life. In addition, a double margin design helps stabilize the drill in the cut, allowing rounder, more accurate holes. Another unique MultiDRILL feature is a drill web construction with a wide-open flute form for maximum chip evacuation.
MultiDRILLs are also self-centering, eliminating pre-spot drilling applications, and all tools feature coolant-thru capability.