Posted March 21, 2023
WD-40 Specialist Degreaser, Cleaner EZ-Pods
WD-40 Specialist Degreaser and Cleaner EZ-Pods are a concentrated, industrial-strength formula that lets professionals customize their degreasing power for degreasing challenges. Applications range from factory, food processing facility, jobsite, or auto shop, and more.
---
For everyday degreasing jobs, simply drop one EZ-Pod in 32 ounces of water for a ready to mix-and-go solution that dissolves in minutes. For tacked on grime – add a second pod for even stronger degreasing power. WD-40 Specialist Degreaser & Cleaner EZ-Pods work in any temperature water but dissolve best in warm water and can be used in a variety of applications like spray bottles, buckets, and power washers.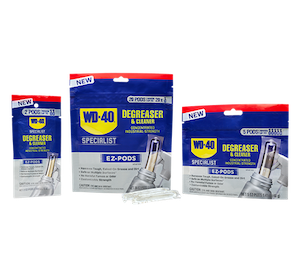 "WD-40 Brand is rooted in innovation and we're always looking to meet the needs of our users. WD-40 Specialist Degreaser and Cleaner EZ-Pods fits the bill with customizable, fast and easy, versatile and portable cleaning and degreasing power," said Dan Anderson, Americas innovation director, WD-40 Company. "Professionals, who use EZ-Pods, can save time, space, and money with one versatile solution for all degreasing needs."
The customizable degreasing solution can be used on sensitive surfaces like plastics, rubber, neoprene, stainless steel, carbon fiber, copper, aluminum, chrome, and painted areas for a clean unlike any other. The product has no harmful fumes, is non-abrasive, non-corrosive, leaves no residue, and doesn't require a CA-Prop 65 warning. This innovation is also 50-state VOC compliant and comes in recyclable packaging. Their compact and versatile nature makes them the ultimate tool in a pro's toolkit.