Posted March 22, 2023
Freud carbide bits
Formulated with Freud's exclusive TiCo Hi-Density carbide and unique cutting geometries, the company's complete range of solid carbide bits offer top cutting performance and durability on workshop and small CNC machines. The innovative detail carving bits deliver up to 2x longer cutting life, maximum durability and superior quality finishes.
---
Featuring the industry's first functional coating, Black I.C.E. (Industrial Cooling Element) protects the solid carbide cutting edge by creating a slick, lubricant like action for less friction, heat and pitch buildup. The combination of Black I.C.E. and TiCo™ carbide make these detail carving bits the go-to CNC bits for woodworkers wanting to create premium looking projects such as 2D and 3D carvings in wood, plywood, composites and plastic.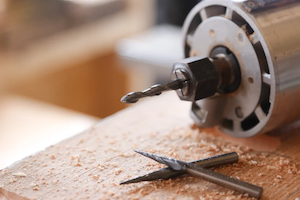 Enhanced Freud TiCo Hi-Density Carbide allows for a sharper cutting edge, with minimal wear.
Black I.C.E. coating protects carbide cutting edge by creating a slick, lubricant like action for a cool cutting edge and superior chip evacuation
Ultimate Precision Computer Balancing enforces strict tolerances that are achieved by using computer-based applications for clean, smooth profiles
Multi-Axis Grinding provides consistent relief angles on the entire cutting edge, which reduces burning and provides flawless finishes
Advanced geometries for superior chip evacuation and finish quality
For use on CNC & other automatic routers; and handheld & table mounted portable routers
Set includes: 1/4" x 1-1/8" Up Cut Spiral Ball Nose (#72-202), 6.2° x 1/32" Tapered Ball Bit (#72-300), 5.4° x 1/16" Tapered Ball Bit (#72-400)
The bits are ideal for: wood, wood composites, plastics (hard & soft), and aluminum for 2D & 3D carving.
www.freudtools.com