Posted April 2, 2023
Streamlight's Vulcan Clutch rechargeable lantern
The Vulcan Clutch from Streamlight is a rechargeable multi-function lantern that delivers 1,700 lumens and features a swivel neck and a 340-degree rotating head. The new light also includes a versatile clamping handle, enabling first responders to attach it virtually anywhere to provide light in multiple directions.
---
"With its high-power LEDs, the Vulcan Clutch provides firefighters and first responders with the bright light they require in emergencies, plus it converts from a handheld lantern to a multi-function light that clamps virtually anywhere to accommodate situations where both hands are needed," said Michael F. Dineen, Streamlight's chief revenue officer. "This two-in-one light with its clamp-on functionality is designed to assist firefighters in a variety of emergency situations, but it also serves as a work light in industrial environments and a portable scene light for roadside assistance. It clamps onto guardrails, buckets, the back of trucks and even serves as a roadside warning beacon with its flash mode functionality."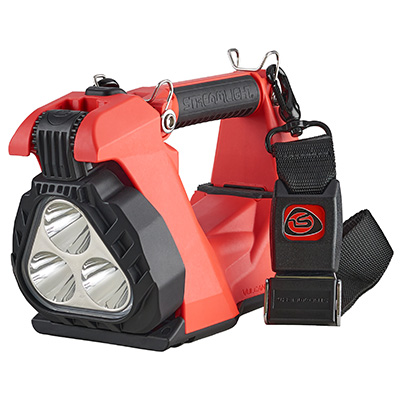 The Vulcan Clutch has a swivel neck and rotating head with hinges at the top to provide multi-directional lighting. With the head stowed, the light provides a 20-degree downcast beam for footpath lighting. The flash mode easily marks entrances and exits or draws attention to hazards when activated. Its rubberized, cushion-grip clamping handle enables users to attach the lantern to virtually any surface, including ladders, doors, windows, motor vehicles, and other structures.
The new lantern uses three white high-power LEDs for extreme brightness. Three deep-dish parabolic reflectors produce a tight spot beam with optimum peripheral illumination to aid in navigation, while two ultra-bright blue LEDs illuminate the lantern's taillights. On high, it delivers 1,700 lumens and 67,500 candelas over 520 meters; on low it offers 380 lumens and 15,000 candelas over a 245-meter beam distance. Run times are 6.5 hours on high, 18 hours on low and 25 hours in signaling flash mode.
Powered by a rechargeable 7.4V 5.2Ahr lithium-ion battery, the Vulcan Clutch fully charges in 5 hours. Its quick install charge rack fits the same footprint as other lanterns in the Litebox, Vulcan and Vulcan 180 series.
The lantern's housing is fabricated from high-impact, super tough nylon offering exceptional durability, and its rotating head is constructed from high-grade aluminum, encased in super tough nylon. The light features an unbreakable polycarbonate lens with a scratch-resistant coating and a sealed gasket. It measures 9.39 inches long, 4.60 inches wide and 6.40 inches high, and weighs only 2.84 pounds with the included battery.
The Vulcan Clutch is IPX7-rated for waterproof operation to one meter for 30 minutes. It also is impact-resistant tested to two meters.
Available in international safety orange and safety yellow, the Vulcan Clutch comes with Streamlight's Limited Lifetime Warranty. The MSRP for the Vulcan Clutch ranges from $327.44 to $404.90 depending on the configuration.