Posted April 20, 2023
Bare headed nut driver for tight spaces
Bare headed nut driver options from Cementex offer improved reach and access to tight spaces – a great addition to customers' toolkits when one of Cementex' s standard nut drivers will not fit.
---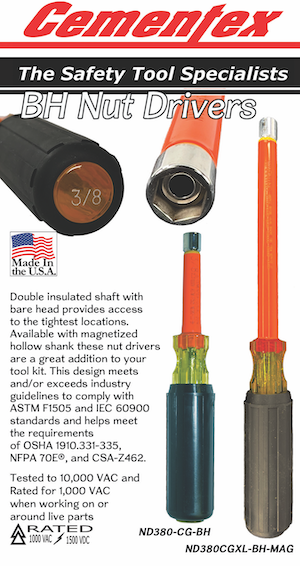 Designed specifically for electricians, maintenance operators, linesmen and technicians, the group of bare headed nut driver options permits access to equipment with limited clearances such as terminal blocks, bus bars and beyond.
The Bare Headed Nut Driver Options come equipped with the double insulated shaft protection, which customers have come to expect from Cementex. Uniquely, the insulation does not cover the head, offering additional functionality and enabling more access to tighter spaces than any other nut driver available on the market.
Proudly made and designed in the U.S.A., Cementex Nut Drivers' signature double insulated shaft and single layered insulated head are 10,000V tested and exceed industry safety guidelines, while providing the slimmest shaft insulation available.