Cordless framing nailers offer battery with fuel gauge
Metabo HPT's 18V 21° and 30° Cordless Framing Nailers now feature a new 18V Compact 4.0Ah battery with fuel gauge for convenience.
---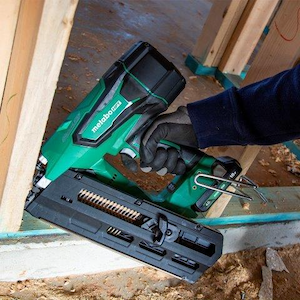 The cordless framing nailers are an efficient alternative, offering freedom to move around. They are ideal for all construction framing applications and are particularly useful for punch out work or remodeling applications without the need for a compressor or hose.
18V MultiVolt Cordless Brushless 21° 3-1/2" Round Head Framing Nailer Kit (model NR1890DRST– MSRP: $399)
18V MultiVolt Cordless Brushless 30° 3-1/2" Clipped Head Framing Nailer Kit (model NR1890DCST– MSRP: $399)
Both 18V framing nailers are packed with features:
Now with the new 18V 4.0Ah battery with fuel gauge for convenience
Drive up to 2 nails per second and 600 nails per charge with included battery
Lifetime Tool-Body Warranty, 2-year battery warranty
Low maintenance air spring drive system that uses compressed air to drive each nail
Zero ramp-up time and recoil that feels like a pneumatic nailer
Tool-less depth of drive
Selective actuation switch between sequential and bump fire modes
Tool-less easy to clear nose
Lightweight and well balanced