Posted June 19, 2023
Metabo HPT's 18V MultiVolt cordless framing nailers
The 18V MultiVolt 21° Brushless 3-1/2-inch Plastic Strip Framing Nailer (NR1890DRST) and the 18V MultiVolt 30° Brushless 3-1/2" Paper Tape Framing Nailer (NR1890DCST) now come with a 18V 4.0Ah Battery with Fuel Gauge (378681M).
---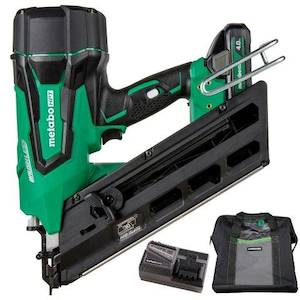 These cordless framing nailers are an efficient alternative on any jobsite offering freedom to move around. They are ideal for framing in single family and multi-family residential construction as well as for punch out work and remodeling applications. Backed by Metabo HPT's Lifetime Lithium-Ion tool body warranty and two-year Lithium-Ion battery warranty, there's ultimate peace of mind. MSRP: $399 for both models
The driving system used is similar to Metabo HPT's pneumatic line featuring a unique low maintenance air spring drive system that uses compressed air to drive each nail. This results in zero ramp up time increasing productivity, increased shooting speed, recoil that feels like a pneumatic nailer, quicker response time between shots, better flush driving into the toughest materials like engineered lumber, and easy maintenance due to fewer parts to manage. Both cordless framing nailers can drive up to two nails per second with no ramp-up time and 600 nails per charge using the included compact 18V 4.0Ah battery with fuel gauge. Integrated rafter hooks add convenience.
They come with a tool-less depth-of-drive dial and have a selective actuation switch that lets the user select between sequential mode or bump fire mode, when rapid nailing is preferred. A convenient tool-less, easy-to-clear nose makes it quick and simple to extract a nail should one jam during use.
For added safety, located on the control panel at the base of the handle is a power button. When activated, the nailer is ready for use. It automatically shuts off power after 30 minutes of inactivity. The side lock switch prevents accidental firing. Dry-fire lockout assures nail placement.
The NR1890DRST 18V Cordless 21° Framing Nailer accepts round head 21° plastic strip collated nails from 2" up to 3-1/2" in length and 0.113" to 0.131" in diameter. At only
9.2 lbs, this cordless framing nailer is lightweight and well-balanced for less fatigue.
The NR1890DCST 18V Cordless 30° Framing Nailer accepts clipped and offset round head 30° paper tape collated nails from 2" up to 3-1/2" in length and 0.113" to 0.131" in diameter. At only 9.0 lbs, this cordless framing nailer is lighter and well-balanced for less fatigue.
The 18V cordless framing nailer lineup is part of the expanding MultiVolt System of 18V and 36V power tools from Metabo HPT. GO lighter with an 18V battery (included) or GO longer with the unique 18V/36V MultiVolt battery that works on both 18V and 36V tools to double runtime for up to 8.0Ah of runtime per charge and more power for ultimate versatility.
These 18V Cordless MultiVolt Framing Nailers come with (1) 18V Compact 4.0Ah Battery with Fuel Gauge (378681M), charger (UC18YFSL), 3mm and 4mm hex bar wrenches, safety glasses and a convenient carrying bag for storage and transport. For more information, including the full line of Metabo HPT products and support, please contact 1-800-829-4752 or visit metabo-hpt.com.