Posted July 23, 2023
Ingersoll Rand D5241 IQV20 Hammer Drill hits performance trifecta
The Ingersoll Rand D5241 IQV20 Hammer Drill, the newest addition to the rapidly expanding battery platform, empowers professional automotive and industrial technicians with the most versatility and precision available on the market. Cordless freedom and flexibility are combined with the durability busy service shops and rugged industrial environments expect from genuine Ingersoll Rand tools.
---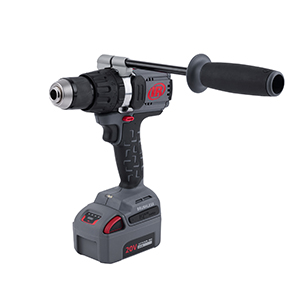 "Operators working in tight, awkward positions no longer have to sacrifice performance for versatility," said Senior Global Product Manager, Power Tools, David Dobersztyn. "We designed the Ingersoll Rand cordless hammer drill with advanced features to make uncomfortable work easier while delivering the quality that provides best-in-class performance, year after year."
Complete Customization
The Ingersoll Rand D5241 IQV20 Hammer Drill features drill, driver, and hammer drill modes to complete more tasks across numerous applications with a single cordless tool. Designed with a brushless motor that powers 1,100 in-lbs. of torque and optimum control. Technicians can get the precise torque level for drilling through wood, steel, or concrete by adjusting between high- and low-speed options. A half-inch, all-metal keyless chuck with carbide teeth eliminates bit slip while drilling through almost any material. The 24-position clutch allows fine-tuned fastening depth, eliminating cam-outs and over-torqued fasteners, saving on materials, and increasing efficiency.
Superior Comfort Meets Lasting Performance
The operator's eyes are less strained as an LED light at the tool's base reduces shadows and illuminates work areas. Hand-numbing jobs are made smoother with the impact-resistant rubberized handle design, helping reduce kickback to keep hands steady and safe while also protecting the tool from damage. Technicians can gain a better grip on high-torque applications with a removable ergonomic auxiliary arm for extra stability. Low-maintenance and serviceable, the D5241 IQV20 Hammer Drill is sold individually or in a kit with two five-amp hour batteries and comes backed by a three-year warranty.
"With a five-amp hour battery in the kit, hardworking techs get twice the battery capacity to drill more holes on a single charge," says Dobersztyn. "That capacity, combined with the versatility and price point, make the D5241 Hammer Drill one of the best values on the market."