Posted August 11, 2023
Pilz PNOZmulti 2 configurable small controllers
A new range of safe configurable small controllers – the PNOZmulti 2 – is available from Pilz, a machinery safety automation company. The PNOZ m C0 unit is just 22.5 mm wide and monitors up to four safety functions on machines.
---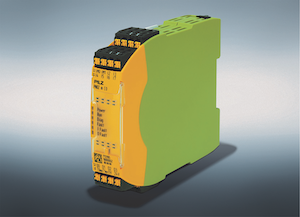 Depending on the application, the new base unit enables high productivity on smaller machines and can be used to implement safety requirements up to the highest category PL (performance level) e or SIL CL 3. It is ideal in various industries and application areas, such as packaging, robotic cells and the food and beverage to name a few.
The extremely narrow PNOZ m C0 has the structural properties of a safety relay but is as powerful as a configurable safety controller. It provides eight safe inputs and four safe semiconductor outputs at a width of just 22.5 mm. Up to four safety functions can be reliably monitored. These include E-STOP, safety gates, safety light curtains and two-hand control.
Also on this standalone base unit, all safety circuits are created via the intuitive software tool PNOZmulti Configurator, the basic version of which is free of license costs and available on the Pilz website. From Version 11.1, individual safety requirements can be implemented simply and flexibly. The tool provides several approved software blocks for monitoring safety functions up to PL e/SIL CL 3. All created safety architectures can be used independently of a PLC controller, so the safety circuit can be downloaded to the device directly via a USB cable and either saved directly or, alternatively, on the chip card.
Digitally supported engineering minimizes configuration time and therefore costs for this step in the life cycle. What's more, functions can be expanded or modified at any time. This is beneficial where machines are produced in series, as they can easily be adapted to current requirements.
If the number of safety functions on small machines increases, the "small" project can simply be migrated via the software tool. Future expansions of the plant or machine are possible at any time. If more safety functions are required, modular and expandable base units are available, with sufficient performance for machines with a greater function range. Depending on the requirement, the base unit is chosen to match the application. The modular, expandable base units also offer high connectivity thanks to connection to all common fieldbus systems, user-friendly diagnostics and web-based visualization.
In conjunction with other Pilz safety solutions, such as safety light curtains PSENopt II, the modular safety gate system PSENmlock or the E-Stop pushbuttons PITestop, users can have a safe, complete, one-stop solution from Pilz.

www.pilz.us