Posted August 14, 2023
Quiet, compact: BOGE re-issues EO compressor series
BOGE, a manufacturer of compressed air systems, has re-issued its tried-and-tested EO series and expanded its performance range to 30 kW. This means these very quiet and compact models can now be used for more applications.
---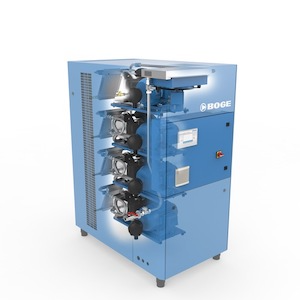 The EO series is very popular in sensitive work environments in particular with high demands for oil-free use and process safety. In the small to medium output performance range, they press home their advantage with their oil-free, quiet and low-vibration scroll compressors. In order to meet the demand for compact scroll compressors with higher performance, BOGE now also offers a 30 kW model. The compressors are available in three sizes for the performance ranges from 4 to 7 kW, 11 to 23 kW and 30 kW. The design principle ensures the efficient generation of totally oil-free compressed air.
Low purchase price and high efficiency
The EO series is characterised by its particularly small footprint. This also applies to the version with an integrated dryer. Customers will benefit from the modular and, at the same time, compact concept. The compressor is also available with a compressed air receiver, as a duplex system as well as with an integrated or external refrigerant dryer. The changes in compressor performance and dimension result in lower purchasing costs and higher efficiency, which is partly explained by the reduction in mechanical losses. Compressor type EO 7, for example, is available with a smaller housing and includes a scroll compressor, while two compressors were integrated in a medium-sized housing in the previous EO 8 type. Two-stage aftercooling ensures optimised outlet temperatures. The compressors have been designed for a pressure dew point of 3 °C.
Flexible adjustment to compressed air requirements
While two compressors are integrated in the EO 11 and EO 15 types, the EO 23 type has three and the EO 30 type has four compressors that can be individually controlled using focus control 2.0. In this way, the system can be perfectly adapted to the relevant requirements. Furthermore, it ensures process safety and creates redundancies because compressors can be flexibly added or turned off. This smart control concept as well as the quiet, efficient and oil-free operation in connection with a small footprint, make the EO series particularly attractive for use in medical technology as well as agriculture where a high level of availability is also required.