Fairlane Products line of bearing wheel covers for radial ball bearings
Fairlane Products Inc. has a lineup of both polymer-based and steel bearing wheel covers for radial ball bearings.
---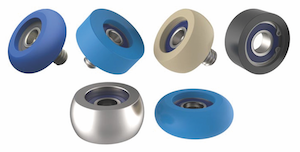 They come in a variety of styles including flat, crown and radial surfaces. The cover materials include black polyacetal and steel electroless plated for general use, white UHWM that offers chemical resistance and blue nylon ideal for heat resistance. The cover material also includes high performance tan peek, grey 70D urethane for abrasive resistance and stainless 303 for corrosion resistance.
The bearing is retained by a snap ring and a low-profile stud is available where the stud is permanently swaged in the bearing and replaces the need for a nut, bolt or spacer.
Standard sizes are available in stock, ready to ship and are available in diameters of 3/4" to 1-1/2", bore diameters from 3/16" to 1/2" and with widths from 3/8" to 5/8" depending on the type of cover. This is counter to the more traditional availability of these bearing wheel covers, many of which require lead time, minimum orders and tooling.
The lineup of Fairlane Products also includes covered bearings where urethane and neoprene are bonded directly to the outer race of a radial ball bearing. The inch and metric covered bearing sizes are offered in two styles…single and double bearing widths. The single bearing style is available in diameter styles from 0.750" to 3" and from 20 to 70 mm. Widths range from 0.196" to 0.563" and 5 to 12 mm. The double bearing style is available in diameters from 0.750" to 3" and from 20 to 70 mm, with widths from 0.392" to 1.125" and 10 to 24 mm.
COMMENTS: 0
---