Techspray IPA wipes
Techspray introduced new Isopropyl Alcohol (IPA) wipe products designed save customers money and reduce emissions.
---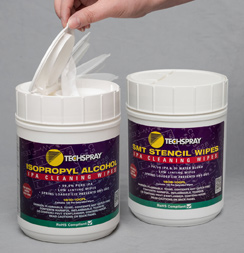 New Flip-Top tubs have a lid that springs closed automatically, which prevents dry-out due to forgetful operators leaving them open. Flip-Top tubs are eco-friendly because they reduce waste and emissions.
Another way to reduce material and disposal cost is to reuse the plastic dispensers. Techspray introduces refill packs, rolls that fit into both Flip-Top tubs and disposable tubs. Refills work well with environmental initiatives because they eliminate dispensers being dumped into landfills.
Techspray IPA wipes are available in two different grades. 99.8% pure IPA is excellent for tape head cleaning, defluxing, fiber optics maintenance, and other light cleaning. 70% pure IPA has a slower evaporation rate, which allows it to soak into heavy soils. It is ideal for stencil cleaning to remove pastes and adhesives, oven cleaning, and general maintenance cleaning.
Techspray IPA wipes are made of non-woven polyester material, which is low linting, and both tear and snag resistant.