Posted March 9, 2022
Radians Titanium climbing style helmet
Construction workers are frequently exposed to fall hazards when working at heights and from struck-by incidents due to a dropped, flying, falling, swinging, or rolling object.
---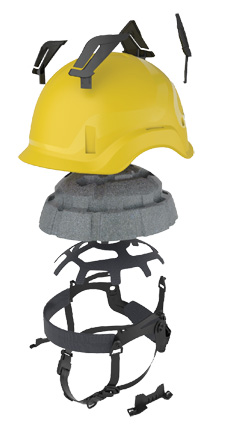 Traditional hard hats have been the first line of defense against head injuries for over 100 years, but head protection is evolving due to the emerging role of safety helmets in the industrial workforce.
Although the traditional hard hat is an iconic piece of PPE, it has limitations. One limitation occurs because traditional hard hats typically use a suspension system and forego the use of a chin strap. Without a chin strap, the hard hat may fall off a worker's head, especially if the worker falls, trips, or slips or bends forward or looks up. Even a strong wind can dislodge a hard hat.
Another issue with the typical hard hat is it is primarily designed to protect the top of the worker's head, not the sides or back of the head. This lack of side impact and back of the head protection can lead to increased injuries, especially if a worker falls from a roof or scaffolding. If a hammer happens to hit the side of a traditional hard hat, the worker's safety could be compromised because the primary protection is at the top of the hard hat.
In the interest of improved safety, the limitations of a typical hard hat have spawned a new style of hard hat called the safety helmet, which often resembles helmets used in the climbing and cycling sports.
"Radians' new Titanium safety helmet represents the new generation of hard hats," says Stephanie Garner, head protection product manager for Radians.
"Titanium helps protect workers from head injuries due to falls from heights or from falling objects like tape measures, hand-held radios, traditional hard hats that slip off, and other tools dropped at heights. Unlike a hard hat, it also provides protection from impacts to the side and back of the head, which is very important if a worker trips, slips, or falls. Plus, its integrated adjustable chin strap, keeps the helmet where it belongs—on the worker's head," says Garner.
Radians new Made in USA Titanium safety helmet features an ABS impact-resistant outer shell for strength and durability, and it is available vented and non-vented in a variety of colors.
Both models share similar features, including an integrated, detachable three-point chin strap, ratchet suspension system, universal accessory slots, and an inner foam comfort liner. The vented version offers the additional benefit of cooler temps inside the helmet due to better air circulation. Both styles can be pad printed with a company's logo or safety message via the Radians in-house custom imprint and logo branding program.
Sold separately, Radians has also developed Titanium accessories, including a visor bracket and a soft goods kit for when it's time to replace the inner brow guard, back pad, and comfort liner.
The non-vented style meets the ANSI/ISEA Z89.1 Type I, Class E and G requirements, and the vented version meets ANSI/ISEA Z89.1 Type I, Class C requirements.