Posted July 27, 2023
WD-40 launches portable, compact Precision Pen
With the same spirit of perseverance, innovation, and tenacity for solving tough challenges that led to the creation of WD-40 Multi-Use Product nearly 70 years ago, WD-40 Brand introduces its newest product innovation — the WD-40 Precision Pen.
---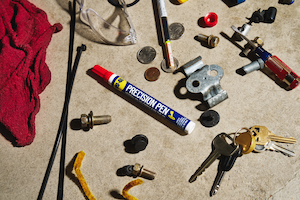 The WD-40 Precision Pen is compact and portable, and engineered to deliver the WD-40 Multi-Use Product — the Original WD-40 Formula — with pinpoint precision. Ideally suited for tight spaces on projects of all sizes, the WD-40 Precision Pen is designed for use at home, on the job, in workshops, or for exploring new frontiers, and is a direct response from feedback received by end users.
"Our end-users told us they need a product that is portable and precise with controlled flow, and we took that challenge to the next-level," said Erin Bala, senior brand and innovation director at WD-40 Company. "The WD-40 Precision Pen is designed to be the perfect addition to any toolbox, serving as your trusted sidekick for projects of any size, anywhere. Its unmatched versatility provides absolute control, ensuring our Original WD-40 Formula goes exactly where you need it."
WD-40 Brand says the WD-40 Precision Pen offers:
Versatility: with more than 1,000 uses, the trusted Original WD-40 Formula stops squeaks, protects against corrosion, loosens rusted parts, frees sticky mechanisms and drives out moisture.
Pinpoint precision every time: apply the exact amount of product to small areas and tight spaces with ease.
Controlled application: experience an easy, controlled flow of the Original WD-40 Formula thanks to the Precision Pen's easy-to-hold design.
Portable and pocket-sized: the pocket-sized Precision Pen fits perfectly in a tool belt, glovebox, or back pocket for quick fixes anytime, anywhere.
Multi-purpose use: perfect for work, home, DIY projects, and on-the-go repairs, the Precision Pen is an all-in-one solution.
The WD-40 Precision Pen is now available for purchase on Amazon and will soon be available for purchase at leading retailers nationwide.
Watch the WD-40 Precision Pen in action on YouTube: https://youtu.be/esrwimcJUr8.