Posted November 28, 2017
Be alert in DistributorLand ("Lerts" are needed everywhere)
by Frank Hurtte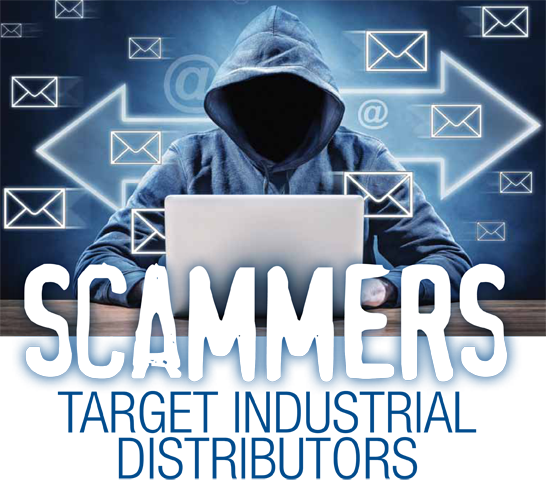 Be alert… For the past year, we have been tracking and trailing the scams used on distributors. During this misadventure, we have heard stories, directly and indirectly, of something just shy of a million dollars' worth of distributor product scammed using various internet-based schemes. Read our articles "Scammers in DistributorLand" and "Scammers target industrial distributors."
Typically, here's what happens: the inside team receives an email from a well-known and respected end-user, contractor or institution asking for a quote on a short list of specialty products. The email looks legit. The company logo is in place. The person signing the email is a real guy. And, if no account currently exists, the person on the other end of the email offers to either fill out a credit application or send along a copy of the organization's references.
Be alert… The credit app forms they send you will be official. Many of these scammers have gone to the trouble of acquiring the official credit reference form of the company fronts they are using. It will include banking information, D&B information and the trade credit references of the organization they are pretending to represent.
Be alert… The phone numbers will often be from the same city and sometimes within a few digits of the proper phone number. These are easy to set up with forwarding technologies used to send your call to the number used by the scammer.
Be alert… These guys want to get the transaction done, ASAP. One of the points that has often stopped distributors from being hoodwinked was the time required for a credit application to be processed. The day or so to get an account set up provided the pause needed for distributor's people to realize something isn't right.
Be alert… The latest scam involves a household name in distribution - Motion Industries. Experience indicates, many distributors serve as second source vendors to Motion Industries through Motion's many supply contracts. This makes a scam working under Motion's name doubly dangerous.
I spoke to Motion Industries directly to alert them to this latest attack on the distribution business. They are aware of the situation and indicate purchase inquiries made through anything other than their local branches should be ignored.
Be alert… For this email. We set up a couple of email accounts designed to attract scammers. Here is an example . . .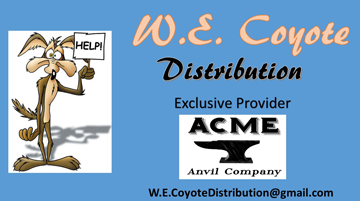 Be alert… Here is are the messages received by our office (last week). I have left the poor grammar and bad typing practices in them to make them easier to identify . . .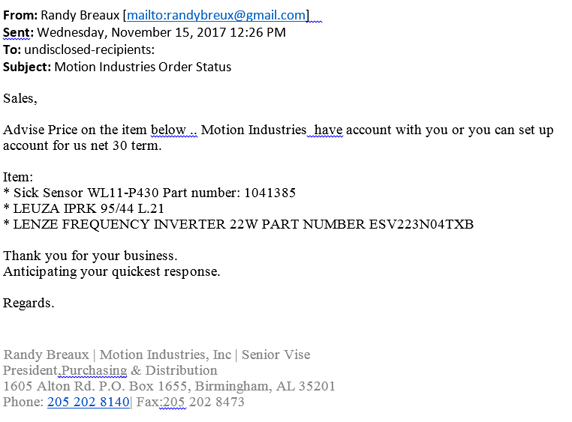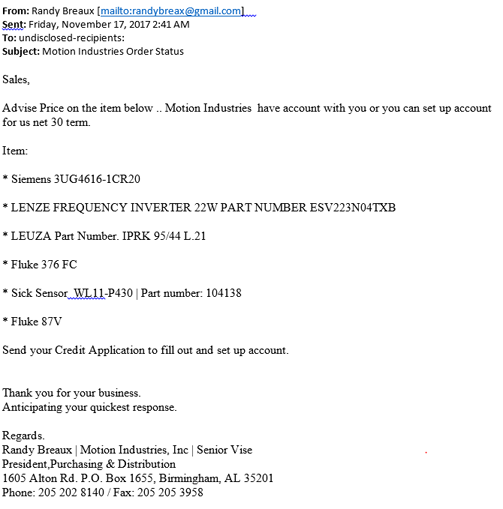 Apparently in his haste, Randy, whom I have met a few times, forgot to add a some of the items to the first email. You know how busy the senior VP of a multi-billion dollar distributor gets when tasked with personally ordering small quantities like this.
How we can tell this is a scam:
Poor grammar and spacing. Come on, even a scammer should pay some attention to detail. I know Mr. Breaux to be quite articulate, so this is probably not his work.
Not the real email address. I can assure you that Motion Industries can afford their own email server and does not rely on free email via gmail.com. But, the idea could be a cost saver.
Mr. Breaux goofed up his phone number. Strangely, it rings through several switches and ends up with a message that you will be called back. I promise you Motion uses something a little better in the way of telephony.
Avoid scams, never ship to unknown addresses without checking and never do business based entirely on an email and a phone number.
Be alert… They are easy to fake. If you happen to get a scam message of your own, send it to my own personal distribution company at: W.E.CoyoteDistribution@gmail.com. We have a staff of "Lerts" in training.

Straight talk, common sense and powerful interactions all describe Frank Hurtte. Frank speaks and consults on the new reality facing distribution. He blogs on "The Distributor Channel" at http://thedistributorchannel.blogspot.com. Contact River Heights Consulting at frank@riverheightsconsulting.com or via phone at (563) 514-1104.
COMMENTS: 0
---