Posted January 27, 2015
Cutting, grinding and groovin' through industrial distribution
Profile of Paula Bass, president and CEO of KBC Tools & Machinery, which is celebrating its 50th anniversary in 2015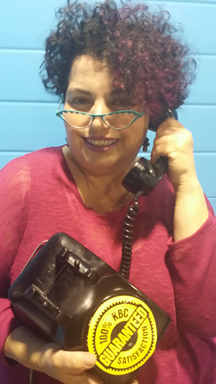 Though the entrance of women into the workforces of the western world began decades ago, there are still many industries that, for one reason or another, remain conspicuously male. Industrial distribution with a focus on the metalworking industry is one such field. An exception is Paula Bass. President and CEO of KBC Tools & Machinery, a 100% female-owned catalog house and distributor of cutting tools and machinery for the North American metalworking industry, Bass has navigated her company through the fast-paced world of metalworking with a deft and unique touch, happily betraying the notion that industrial distribution for metalworking is solely a man's business.
KBC Tools was founded in 1965 by her father Karel Bass, which meant that Paula was exposed to 'tool talk' from a very young age. The KBC catalogue was something she liked to flip through as her entrepreneurial interests soared and she involved herself in the management of various businesses outside the world of tooling.
As anyone who has visited one of KBC's colorfully and stylishly decorated showrooms can attest, her lifelong interest in the visual arts has brought with it a creative flourish that has greatly differentiated KBC Tools from the competition. Bass earned a Bachelor of Fine Arts in printing and painting from the University of Michigan in the 1980s. As Gallery Director of Lill Street Studios in Chicago, she oversaw classes for over 2,000 students yearly, monthly gallery exhibitions, and over 50 in-house ceramic artists, all while completing her MBA in marketing and finance from the University of Illinois Chicago. Thus, the apparently disparate worlds of art and business were merged within her expanding resume.
She took her first KBC job as vice-president of marketing in 1990 at one of the company offices near Toronto, Ontario, after it had gone through four management changes in one year. After some major clean-up within accounts receivable and returns and a new focus on working through systematic efficiency problems, she got the Toronto office back on track. Just three short years later she took over the helm as president from her father, keeping KBC the family-owned and operated enterprise that it remains to this day.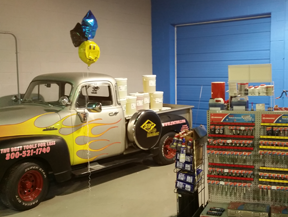 Now based out of KBC's Mississauga, Ontario Canada headquarters, Bass continues to combine her love of art and interest in business. She is constantly looking for new ways to liven things up and bring flair to KBC branches across the country with eye-catching point-of-purchase displays, comfortable places to sit and flip through the catalog, and large machine tools on display. The showrooms have stylish color schemes and classy restored authentic '50s cars on display (a nod to KBC's beginnings in The Motor City: Detroit, Mich.). The warehouse ceilings have been painted white, which makes the area brighter while reducing lighting expenses, the aisles have been made wider to allow for ease of movement - especially with forklifts, and to save on costs and to recycle, KBC shreds all of its waste paper to reuse as packing material.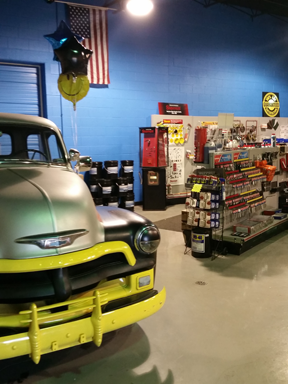 A busy single mother of twin girls, Bass is always looking for ways to improve the efficiency at KBC while keeping it an exciting place to work for employees. Not afraid to get her hands dirty, she's a hands-on leader who still answers the phones, picks and packs orders and dances at trade shows to energize her team. During the recession she implemented 'Joke of the Day' on all outgoing invoices, Daily Specials, bingo tournaments, contests and fundraising activities for various local charities to bring levity to the company's operations and start the day off right for both clients and employees. These little touches motivated KBC employees and helped to keep sales up during a very difficult time for the industry as a whole. Her fun and unconventional practices continue today.
Further evidence of this light-hearted spirit at work: can you think of any other CEO who would bring Elvis impersonators simultaneously to every branch in North America to celebrate the company's 45th U.S. anniversary? Even more recently, Algonquin Park was transported into KBC's Canadian headquarters to celebrate the company's 25th Canadian anniversary. This party for clients and Team KBC alike featured a campfire, back bacon, live music, a faux-forest, maple donuts and other essential Canadianisms arranged with typical panache amidst the lathes, sheet metal breaks, and drill presses that populate the showroom.
New computer systems, a brand new website, more efficient bar coding, active involvement with clients on Facebook, Twitter and LinkedIn are just a few of the more conventional operational improvements Bass has implemented to ensure maximum efficiency in-house. Always keen to create win-win scenarios with her clients, Bass and Team KBC offer tips and tricks to increase sales and how to bring in the accounts receivables to help them meet their accounts payable commitments, which of course helps KBC meet its receivables targets and which, therefore, keeps everyone happy (and solvent).
The Canadian headquarters implemented the ISO 9001 Quality Management Standard Designation as the test site for the company to eventually implement across the board. Her focus then as now has been to ensure an efficient company with minimal product returns and back orders while guaranteeing low prices, quick pick-up or delivery (in as little as 10 minutes from phone order to pick-up) and customer satisfaction. Simply put, KBC is a company of people with personality and Bass makes it her mission to engage these personalities while ensuring the clients she deals with on a daily basis are 100% satisfied - not only with the products she sells but crucially, with the service they receive and the experience of buying metalworking tools.
As one might expect, there has been official recognition of these achievements. KBC has been named to Detroit's Top 500 Privately Owned Companies, Detroit's Top 100 Female Owned Companies, and Working Woman 500 - Largest Woman Owned Business in the U.S.
COMMENTS: 0
---