Finishing Strong
How recent advances in surface conditioning technology can increase productivity while minimizing operational costs for industrial manufacturers
By Paul Krupa, Senior Product Manager, Saint-Gobain Abrasives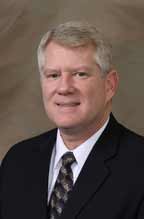 According to the Manufacturers Alliance for Productivity and Innovation (MAPI), the U.S. industrial outlook for 2013 will show modest growth throughout the year. However, it might not be until midway through 2014 that the economy will start to grow at a moderate rate. Ultimately, this is good news. With only slight growth predicted for the immediate future, industrial manufacturers must look for ways to increase productivity and throughput to support that anticipated growth, while maximizing overall efficiency to keep operating costs down. The question is: how can industrial manufacturers meet higher demand without increasing overhead?
Common industrial processes, such as surface finishing, are a good place to start. Surface finishing uses various non-woven abrasive products to change or improve the surface of a manufactured product to achieve a desired property. For example, surface conditioning discs can remove marks, burrs and other surface imperfections that occur during machining. These products can also be used to enhance performance, increasing adhesion, solderability, and durability, as well as resistance to corrosion, tarnish and industrial chemicals.
Across key manufacturing processes of various industries, from aerospace and transportation, to energy and maintenance repair operations (MRO) and metal fabrication, recent advances in surface conditioning technology now allow for additional manufacturer benefits. Using enhanced non-woven abrasives technology, industrial manufacturers can improve overall operational efficiency to achieve desired higher productivity and throughput, while also reducing time and labor requirements.
Next-Gen Non-Wovens
Materials science expertise and innovations in product design have combined to yield improved abrasives technology, including surface conditioning discs that feature a non-woven substrate impregnated with an aluminum oxide aggregate grain, patent-pending smear-resistant resin chemistry, and three-dimensional construction. These unique features provide high abrasive content for continuous cutting on soft and hard metals alike for excellent surface finishing of steel, nickel, alloys and other materials, while an open web structure resists loading on softer metals like aluminum. This technological breakthrough provides upwards of four times the performance in cut rate and surface coverage. Comparisons show a longer useful life, consistent cut rate and superior finish from beginning to end (See: CHART 1). This enables industrial operations to reduce or eliminate steps in a surface improvement process for more throughput without additional resources and even better cost positioning.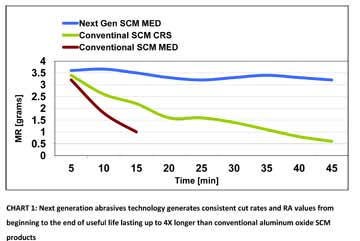 CHART 1: Next generation abrasives technology generates consistent cut rates and RA values from beginning to the end of useful life lasting up to 4X longer than conventional aluminum oxide SCM products
For more challenging applications, such as heavy scale removal and stone or granite cleanup, other technological advances within quick-change stripping and blending discs that feature a ceramic alumina long-lasting grain and advanced resin bond provide twice the life of conventional surface conditioning products. This exceptionally durable design results in a high-performance product that will not shed on rust-covered pieces. Extremely versatile, this allows for multiple operations using one disc, from medium grit surface conditioning to more challenging strip and clean jobs. The innovative disc material is not only stiff enough for challenging applications, but also soft enough to prevent gouging that can necessitate rework. An open web structure does not load on coatings, adhesives or softer metals and when used to deburr, the discs will not snag or shed like lantuck or fiber discs. This new technology allows for improved cycle times, abrasive life and overall cost per part savings compared to traditional aluminum oxide removal products.
Performance in the Field
While lab testing under controlled circumstances is a good start, it is performance in the machine shops and manufacturing facilities that really counts. The good news for industrial manufacturers is that these advanced non-woven abrasives and their superior level of performance have been proven in the real world. Currently used with tools like right-angle grinders, in-line grinders, and die grinders, surface conditioning products utilizing cutting-edge technology provide various benefits across key industrial sectors every day.
Aerospace
For aerospace manufacturing, advanced surface conditioning products can be extremely useful for blending and deburring applications involving airframes and investment cast parts. By simplifying the process, aerospace manufacturers are now able to reduce cycle times, enhancing productivity and efficiency.
Transportation
These new technologies are also ideal for automotive, trucking and bus applications, such as frame repairs, weld blending, and surface paint preparations, including scuffing and blending. By providing fast, smear-free performance, transportation industry manufacturers will improve productivity by reducing labor requirements for surface finishing operations.
Energy
In addition, quick and effective surface conditioning products can allow time-sensitive energy generation operations to decrease downtime. For example, the new technology can be used in oil and gas operations to deburr pipe threads for rapid and precise pipeline fittings as well as in land based gas turbine power operations to refurbish blades or repair cracks. A better finish and improved productivity will result in fast and efficient operations – key in energy generation.
MRO/Metal Fabrication
Finally, maintenance and repair operations (MRO) and metal fabricators can use these recent innovations in surface conditioning for various applications, including blending, deburring and weld blending, surface preparation prior to painting, rust and paint removal, and surface prep prior to blending. As a rule, MRO and metal fabricators are under steady pressure to reduce downtime and costs. With new options offering enhanced performance, they can effectively increase productivity while reducing labor requirements.
While analysts are predicting a slight increase in industrial manufacturing in the year ahead, that growth is said to be sluggish, which means that manufacturers need to prepare themselves for best- and worst-case scenarios, allowing themselves to meet increased demand, while keeping a close eye on overall operational costs. Key industries, such as aerospace, transportation, energy production, MRO and metal fabrication all have one thing in common – they all use surface conditioning during the manufacturing process. Recent advances in surface conditioning technology have made this is a great area to cost-effectively increase productivity. Innovative design and materials science have combined to yield a new generation of high-performance surface conditioning products that are durable, flexible and easy-to-use. As the economic landscape begins to show signs of improving, industrial manufacturers need to utilize this new surface conditioning technology to help meet increased growth, while streamlining their manufacturing operations in order to remain competitive in unstable economic times.
As Senior Product Manager – Technical Non-Woven Abrasives at Saint-Gobain Abrasives, a global manufacturer and supplier of performance engineered abrasives, Paul Krupa is responsible for market intelligence, product line and product lifecycle management, new product and new business development, and defining strategic marketing communications directive. Krupa is an abrasives industry expert with extensive product experience in non-woven materials, conventional light- and heavy-weight papers, abrasive grains and resins, and sanding sponges. He holds a BS in Wood Products Engineering from SUNY College of Environmental Science and Forestry, a BS in marketing from Syracuse University, and an MBA from Medaille College.
COMMENTS: 1
Scaling Tools
Posted from: Andrew, 2/12/16 at 3:15 PM CST
It's no different than the principle behind sanding down a piece of wood before applying varnish or paint, just on a much larger scale. By using <a href="http://www.novatekco.com/">surface prep tools</a> like vibration reduced scalers, needle and chisel scalers, etc. you can complete the scaling process before applying any sort of coating, and it pays off big time in the long run.
---