Posted May 9, 2017
Keeping Pace in the Age of Amazon
Three tactics distribution centers can implement to improve efficiency
By John O'Kelly, Newcastle Systems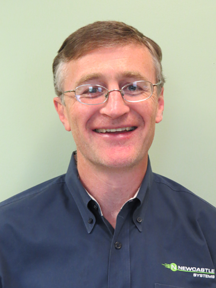 Long before Amazon started producing award-winning original content, voice controlled home devices and robust cloud computing platforms, the Seattle-based company flipped the shipping and warehousing industry on its head, forever. Amazon's dedication to two-day shipping and speed is unprecedented, and 23 years after its official launch, competing against the e-commerce giant is nearly impossible.
The resource imbalance between Amazon and other DCs makes direct competition an uphill battle. However, there are smart warehousing strategies distribution centers can learn from Amazon to create efficiencies and a stronger workflow.
Here are three approaches DCs can implement to keep pace and become the "Amazon" of their industry:
Stock Keeping Unit (SKU) Optimization Plan – A good start to creating a leaner warehouse is implementing a strong SKU optimization plan. SKU optimization is the process of determining whether a product should be kept or discontinued. There is no sense in keeping a product on the shelves if it's not selling. Warehouse management system software helps warehouse managers track inventory levels so they can make quick decisions on products that need to go. Warehouse optimization is all about getting rid of waste and creating more time for associates.
Radio Frequency (RF) Scanning – If a warehouse isn't using RF scanning in multiple ways, you're already behind the eight ball. RF scanning is vital in the receiving process because the wireless technology will limit the number of steps associates are taking to various stations throughout the warehouse. It frees them up for other tasks pertinent to workflow. Rolling out RF scanning doesn't take long, and the added sophistication will go a long way in limiting time and product waste.
Mobile Power – With mobile-powered workstations, warehouse associates can process goods right on the receiving dock, saving countless steps throughout the day. It's estimated that each step a warehouse associate takes costs the company 3 to 4 cents. You can figure out how much each step is costing your DC by entering basic data into online calculators. While 3 to 4 cents per step may not seem like much, if each worker is taking tens of thousands of steps per day, the cost adds up. Instead of workers walking to a static workstation to print labels or use a computer 100 or more times during a shift, they literally wheel all equipment along with them on an independently-powered cart.
Say you're offloading 18 truckloads every day in a single facility. By implementing mobile-powered receiving stations, you can reduce processing time for each truck from 45 minutes to 30 minutes resulting in a savings of about $22,000 a year, based on a total of 4.5 hours saved daily. These are important gains for companies that are operating in a world where e-tailors like Amazon are pushing the "next-day" and "two-day" envelope hard. Amazon may be eyeing robots and drones to improve its efficiency, but for DCs with a significantly smaller budget mobile-powered workstations will have an immense impact.
A good starting point, along with the suggestions above, is to enlist the help of a warehouse process improvement consultant. They'll help identify process bottlenecks and recommend specific solutions for your warehouse to improve efficiencies.
Without automation DCs will fall behind. Learn from Amazon, roll-out smart and budget-friendly tactics to reduce steps for staff. Amazon is in a class of their own, smaller warehouses don't need to include drones and robots to increase efficiency.
John O'Kelly is the founder and CEO for Newcastle Systems, an innovator of workplace mobility solutions partnering with many of the world's leading companies to enhance worker productivity, operational efficiency and organizational profitability. For more information visit http://www.newcastlesys.com/.
COMMENTS: 1
Greed will be amazons undoing
Posted from: Tom, 5/11/17 at 7:31 AM CDT
Amazon is already getting lax in its control with missed shipments, pricing, lack of control on UPC codes and allowing other sellers to tarnish its image. What once seemed like an unstoppable force now seems like a train headed for a broken tressle.
---