Pneumatic Vacuums Provide Safe Alternatives in Hazardous Locations
By Mark Yorns, Director of Engineering, Guardair Corporation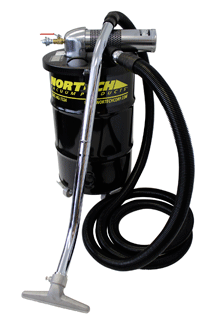 Pneumatic vacuums are gaining momentum in the marketplace because of the safety benefits they offer. The primary difference between pneumatic vacuums and standard electrical shop vacs is that they run on compressed air. This means there are no motors to burn out, no moving parts to wear, and no electrical wires to spark. Pneumatic vacuums produce twice the amount of power that standard shop vacs produce and are virtually maintenance-free.
The Right Vacuum for Hazardous Environments
Currently there are no standards that exist to certify pneumatic vacuums for safe use in hazardous locations within the United States. Europe has led the way by developing standards known as ATEX Directives. Guardair recently engaged a UK-based and nationally recognized testing laboratory to certify our ATEX-Approved Pneumatic Vacuums against the ATEX Directives. The vacuums, produced under the company's Nortech Vacuum Products Division, are ATEX-approved (EX) for zones 1, 2, 21, and 22; meeting the requirements for use in Class I, Group A, B, C & D, and Class II, Groups E, F, and G per NFPA.
Regular vacuums can inadvertently create static electricity that can be hazardous in locations with dangerous vapors or combustible dust. ATEX-Approved Pneumatic Vacuums eliminate the threat from static electricity by combining static conductive design with inherently safe, pneumatic vacuum technology. Static conductive attachments, electrically bonded internal components, and multiple grounding options eliminate static electricity at the source.
ATEX-Approved Pneumatic Vacuums also generate a high suction for superior performance. This means users can clean more expediently, saving time and money. The heavy-duty, static conductive, powder-coated, 55 gallon steel drum sits atop a detachable drum dolly that features swivel casters with 3" steel wheels. It includes all metal pickup tools, rugged lid latches, an external grounding lug, and Chicago style connector. The vacuum also comes with both a static conductive air hose and a vacuum hose. They are ideal for wet or dry locations.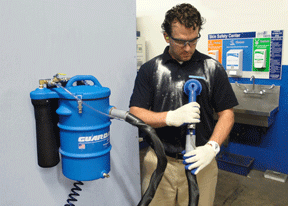 Safe, Self-Cleaning Solution
Another example of a pneumatic vacuum that meets a need in the market is the Guardair Personnel Cleaning Station (PCS). The PCS is a high efficiency vacuum designed for self-cleaning that meets OSHA standards by capturing the debris versus blowing it back into the air. Running off standard shop-compressed air, the PCS features an on-demand air-agitator brush attachment. Thumb-switch activated, the air-agitator loosens and lifts particles airborne where the vacuum sucks them away safely and effectively.
The ATEX-Approved Pneumatic Vacuum and the Personnel Cleaning Station (PCS) are two examples of innovative and safe vacuums developed by the team here at Guardair. To learn more about Guardair's pneumatic vacuums and our forever warranty, visit www.guardaircorp.com.