Posted April 3, 2020
Sales leaders embracing digital tools
by Michelle Richardson
In their bid to keep commerce inching through the sales pipeline during the COVID-19 pandemic, a startling percentage of sales professionals have quickly traded pressing the flesh for meeting by Zoom as the way forward, according to the Brooks Sales Leader survey for the week ending March 27.
---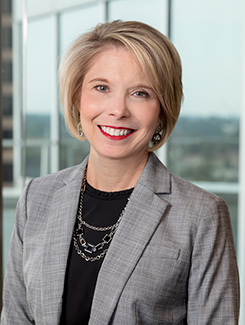 Michelle Richardson, The Brooks Group
Administered on a weekly basis during the pandemic, the survey takes the pulse of sales leadership professionals, in an effort to gauge the most pervasive challenges and opportunities facing sellers and buyers in a changed – and everchanging – marketplace.
This week's survey sheds light on the virtual methods being employed to keep commerce moving. To wit:
• 69 percent of respondents are using Zoom, Skype and other virtual tools to meet with clients and prospects (and 79 percent use these tools for internal meetings);
• 71 percent have seen travel restricted or eliminated;
• 65 percent of sales pros are using the time to increase their contact with existing buyers
The use of virtual selling techniques and focus on connections with existing buyers reflects what will likely prove to be important strategies for sellers moving forward, as 90% of our respondents reported some level of decline in their lead flow. In terms of sales results, nearly 71 percent reported slight or no negative impact, while 29% are significantly behind plan.
Other themes evidenced in the March 27 survey:
Growth and Development
Nearly half of sales professionals are using the disruption in sales activity for personal or professional improvement. Many respondents expressed uncertainty about how best to handle existing customers, or to approach new customers, with some seeking direction as to how to gauge what their clients would find most useful about their relationship.
Still others wondered how to gain the attention of their prospects and buyers given that many are preoccupied with their own immediate critical business issues. Almost 20 percent of respondents are extending finance or payment terms on customer orders to help buyers cope with the crisis, so this latter concern would seem to be valid.
In for the Long Haul
Almost three-quarters of respondents expected long-term effects from COVID-19-incited slowdowns, with more than 18 percent predicting it will take at least three months or more to shake off the impact.
As a result, many sales leaders are adjusting their team's metrics and key performance indicators (KPIs) to better reflect marketplace realities. When asked to identify the most important KPIs to monitor in the current environment, 82 percent of respondents indicated that calls with existing customers; and 62 percent identified the creation of opportunities. Only 43 percent felt that closed sales would be an important KPI given the new realities. Margin and profitability also scored low, as 20% of respondents identifying this as an important metric.
This remains a challenging time for the sales industry. The organizations that survive and thrive will be those that continue to adapt creatively while operating within flexible structures and without abandoning best practices.
What is your sales organization doing to mitigate impacts? We'd love to hear from you. Contribute to our weekly surveys and attend our live weekly webinars. Find more information on both here: https://brooksgroup.com/virtual-happy-half-hour.
Michelle Richardson is vice president, sales performance research for The Brooks Group.
Reach her at contact@thebrooksgroup.com.