Posted December 14, 2021
Why AI and ML are essential in today's e-commerce marketplace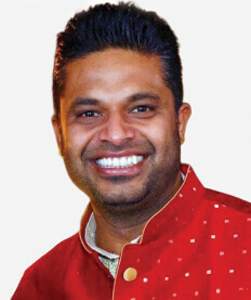 by Rohan Thambrahalli
Founder and president
UpstartWorks
Online sales have been booming, especially during the COVID-19 pandemic, and it's more than just consumers who prefer the convenience of shopping online. Increasingly small to midsized companies do too. To ensure B2B sales are ready to adhere to this continuing influx in online sales, industrial product companies have an opportunity to leverage leading-edge technology to game their outcomes in crucial marketplaces.
A recent Statista survey shows that business-to-business online sales are projected to reach 1.2 trillion U.S. dollars this year, up from $889 billion in 2017. So, how can industrial product companies take advantage of online marketplaces and create a new channel for their brand? New technology and integrated logistics that combine advanced technologies, paired with an understanding of marketplace dynamics, can help optimize e-commerce success. By adopting new approaches focused on the commercial buyer, industrial brands can reach a larger swath of customers.
Industrial product companies should consider developing a comprehensive e-commerce strategy using Artificial Intelligence and Machine Learning to handle everything from inventory prediction to logistics optimization. Maximizing the capabilities of AI and ML can help businesses thrive in online sales and propel their presence on Amazon and other e-commerce channels. Automation can improve time-consuming processes and help brands reach more extensive customers. AI and ML bring powerful capabilities to help take a business forward in this modern market of e-commerce.
The Puzzle Pieces
It's not one singular technology that can help catapult success in online marketplaces but an advanced platform that layers critical solutions to drive efficiencies and outcomes. New platforms allow product companies to know where to start by conducting an automated analysis of their marketplace, finding gaps, spotting potential weaknesses, and benchmarking against competitor offerings.
By leveraging AI capabilities through advanced e-commerce commercialization platforms, industrial product companies can become more competitive – and generate more profits – by continuously gathering relevant competitor and pricing data to maximize their own approach. This same technology also empowers companies to track their own performance data and offer real-time corrections.
AI-powered algorithms can provide essential data to help industrial product companies predict demand, draw on statistical patterns, and model multiple situations in e-commerce. This allows businesses to study patterned online behavior, trends, purchases, predict future responses, and make necessary adjustments. As a result, a company can make informed decisions today that were impossible ten years ago.
Known as predictive analytics, this new tool can catapult marketplace strategies to help provide improved results and outcomes. Once implemented, formulas can predict consumer behavior and, paired with data and insight, create performance-driven advertising programs which are continuously updated and refined to maximize ROI.
With discoverability and demand data, industrial product companies can benefit from Machine Learning to forecast inventory required for customer delivery. These insights help companies increase profitability, avoid sales slumps, and benefit from peaks like the holiday season by maximizing their inventory. About 81% of online merchants are increasing their AI budget from the previous year as they aim to increase sales during the holiday season, according to a report by Researchscape.
With advanced data, outsourced distribution experts can leverage their knowledge of process management, operational efficiency, and regulatory compliance to serve as a third-party logistics solution for customers' e-commerce fulfillment. AI enables companies to track, manage, and forecast inventory at all stages for optimal efficiency. The result is that industrial product companies can successfully fulfill smaller, custom orders, and drop ship—allowing them to establish leadership in new market segments.
Instead of stringing together complex reports detached and separate, e-commerce optimization tools need to co-exist, sharing a single ecosystem portal that drives efficiencies, synchronicity, and maximum results.
Industrial products have a unique market opportunity, specifically on Amazon; a sea of untapped revenue exists made up of smaller buyers who have been excluded with less access to the parts, products, and tools needed to be successful. Opportunities in the billions remain untouched and available. Advanced technologies exist with the ability to reverse this tide and offer the chance for companies to propel themselves to a higher level and find success in these critical marketplaces.
About Author:
Founder and president of UpstartWorks, Rohan Thambrahalli, has made it his goal to develop a culture that embodies the builder who delivers best-in-class value to customers and partners. UpstartWorks is Rohan's most significant personal and professional achievement. It was his vision from the beginning to start a company that could provide vendors the reach, technology, scale, and capabilities to compete with the best brands in the world. Rohan holds a bachelor's degree in MIS and Economics from DePaul University. In his free time, Rohan enjoys reading business journals and articles.
COMMENTS: 0
---