Technology Helps Manufacturers Improve Distributor Communication and Boost Sales
by Justin Johnson, Co-Founder & CEO of LeadMethod
For most manufacturers that sell through a channel sales network, visibility ends where distributor involvement begins. Imagine this scenario: A potential customer calls or sends a quote request through the manufacturer's website. The marketing department sends an email to a local distributor with the lead details. What happens next? Is the lead contacted by the distributor? And how fast does the distributor sales person reach out to that potential customer?
Most manufacturers don't know the answers or don't have a clear view of lead patterns. But if they want to optimize their sales channel and maximize revenue, they should. Price Pump, a manufacturer of centrifugal and air operated diaphragm (AOD) pumps, is all-too familiar with this story.
"We work hard to drive high value leads so that our distributors can sell more products," says Jestin Plowright, sales and marketing manager for Price Pump Company, a manufacturer of industrial pumps. "But it's a challenge for us to know whether or not the sales reps are following up on the leads and what our sales forecasts looks like across our distribution channel. Right now, the only feedback we get from our distributors is the occasional email, and most of the time we have to solicit that information."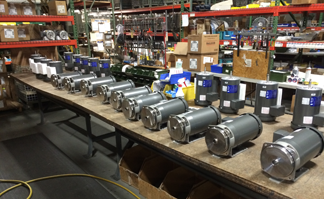 Plowright's concern is warranted. A recent study from the Harvard Business Review shows that 47% of leads are contacted more than 24 hours after the initial customer inquiry, greatly diminishing the probability of making a sale. Meanwhile, many customers are never contacted. Gartner Research reports that 43% of sales go to the company that follows up first on the lead. These studies highlight the danger of manufacturers not knowing what is happening with leads. But without visibility to their outside sales channel, it's nearly impossible for manufacturers to identify and address those red flags.
Communication Breakdown
When it comes to tracking leads manually, manufacturers have no way of knowing if and how their distributors have addressed them. Additionally, they're been unable to connect leads to specific marketing or advertising sources to determine the ROI on their marketing dollars spent. Forecasting sales based on the leads in the channel pipeline can also be a challenge, as is organizing leads in a central location that is easy for outside sales reps to use. These are all issue that directly impact the manufacturers' sales and revenue.
And manufacturers aren't the only ones affected. "Communication between manufacturers and distributors has always been a challenge," says Ron Somerville, an equipment distributor covering the Southeast U.S. for Master Pumps. "As distributors, we don't have an effective tool to provide manufacturers with consistent information about the leads they send us and our sales pipeline."
CRM Systems Don't Solve the Problem
CRM (customer relationship management) systems are well-known for managing leads and customer data within an internal sales organization. However, for companies that sell through outside distribution channels, they don't provide the functionality needed to manage leads and facilitate communication across this complex sales channel.
"Several of the manufacturers that we represent have asked us to use their CRM programs, but they've never worked," says Somerville. "Distributors don't want to learn how to use 20 different systems and keep track of 20 different login details for something they rarely use. It's a huge hassle for us, so we just don't use it."
Manufacturers need to be able to clearly visualize and understand what is happening to the leads they send to distributors. Meanwhile, distributors need an easy way to communicate with manufacturers that integrates seamlessly with their normal business process. Fortunately, new technology can help bridge this gap by easing the flow of communication and information for both sides.
New Software Provides an Answer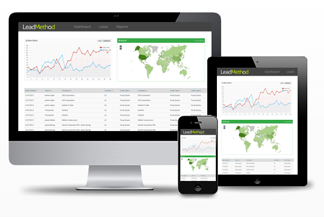 It's clear that for a lead management system to work for manufacturers and their outside distribution network it has to be simple, easy to use, and integrate with their existing business processes.
LeadMethod has created a powerful, easy-to-use, web-based system that allows manufacturers to automate their lead capture and distribution process while offering their distributors a tool to easily organize their leads and provide feedback on their sales opportunities. The software also provides manufacturers with powerful analytics to understand what is happening with their leads, as well as their sales opportunities, sales forecasts and distributor performance.
"The LeadMethod team has built an amazing platform for us to better understand our sales opportunities, and improve the communication and feedback with our distributors," says Plowright. "The system is incredibly easy to use and gives us the answers that we need to better understand our channel sales network and opportunities."
According to Gartner Research, automating the lead management process enables companies to increase revenue by 10% or more in only six months. Justin Johnson, CEO of LeadMethod, says that gaining control of those languishing leads represents a huge opportunity for manufacturers.
"Automating the lead management process, improving distributor feedback and communication, and making the most out of every sales opportunity can make a big difference in a manufacturer's revenue growth," he says. "The great news is there is a solution to make that happen."

LeadMethod, headquartered in Bend, Oregon, is a lead and channel lead management software company with experience in the industrial manufacturing market. The LeadMethod platform is designed to improve efficiencies and information flow for industrial manufacturers that sell through outside distribution. Learn more at LeadMethod.com or call 800-390-5578 to schedule a demo.
COMMENTS: 2
Marketing Automation
Posted from: brian, 7/28/17 at 3:23 PM CDT
Here are definitely lots of marketing automation packages out there now that can address such needs. Marketo, Hubspot, Sharpspring or Pardot all come to mind.

Here is a post with some other ideas related to manufacturing lead generation that might be of interest: http://info.fieldaymarketing.com/blog/converting-manufacturing-leads-to-customers
Really interesting
Posted from: Shawn S., 4/11/14 at 10:59 AM CDT
Wow, I totally get these challenges and will be recommending this system to several manufacturers that I work with. Thanks!
---