Posted April 23, 2020
Grainger chairman: We will come out stronger than before
by Rich Vurva
While acknowledging that Grainger is navigating a challenging business climate, chairman and CEO DG Macpherson said the company has a strong balance sheet and will survive the COVID-19 pandemic stronger than before.
---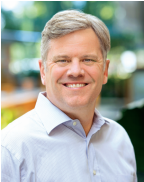 DG Macpherson, Grainger chairman and CEO
"This has been a challenging period. The virus has created significant demand imbalances for PPE and other products, creating substantial challenges for our customers," Macpherson said in a quarterly conference call Thursday morning following release of Grainger's first quarter results.
The company recorded sales of $3 billion in the quarter, a 7.2 percent increase from the same period last year. About half of the sales gain resulted from sales of pandemic-related items.
Macpherson said Grainger started planning and responding to the pandemic in late January by establishing an emergency preparedness task force. In the early days, the company executed large pre-buys of non-pandemic product to ensure that service levels of non-pandemic supplies would continue to be strong.
The company has also taken several moves to ensure the safety of employees and customers in company facilities, including temperature screening of all individuals prior to entering Grainger facilities. Other actions included minimizing exposure to team members and customers, augmenting cleaning procedures, mandatory curbside service at all facilities, and providing PPE equipment for team members and mandating work from home for employees able to do so. Grainger also moved its national sales meeting to a virtual format after cancelling its annual meeting in Florida.
"As you can imagine given the size of our workforce, we have had cases of COVID-19 within our facilities. In each case, team member safety is our top priority. That means we have had to shift volumes across our network as we temporarily close buildings to deep clean a facility and quarantine any exposed team members," he said.
Like other distributors, Grainger has experienced shortages in N95 masks, sanitizers and other PPE. "In several weeks' time we received orders for the same quantity of safety masks that we usually see over several years, and in some cases, even decades," he said.
Tom Okray, senior vice president and CFO, added that Grainger has taken several actions to bolster its financial position. The company increased the size of its revolving credit facility to $1.25 billion and executed a large scale refinancing. Combined, these initiatives increased liquidity by roughly $625 million. At the end of March, Grainger tapped $1 billion of the revolving credit facility.
"All in, we exited the quarter with over $1.7 billion in available liquidity, including $1.5 billion in cash," Okray said.
Grainger has also taken several initiatives to conserve cash, including temporarily furloughing team members, short-term pay cuts for executives, delaying merit increases for salaried workforce in North America, eliminating non-essential travel and delaying hiring decisions. Those efforts are expected to produce $40 million to $55 million of sequential cost savings in the second quarter, even when counting for the increased cost of handling the pandemic response.
To date, Okray said Grainger has seen no material change in delinquencies or bad debt.
"We have a strong business and balance sheet as well as access to capital, and we're taking proactive steps to keep the company healthy and our workforce stable, while continuing to serve our customers well," said Macpherson. "While this crisis is certainly different from any we've experienced, I'm confident that Grainger will come away from it stronger than before."