Posted July 24, 2020
Pandemic hurts Grainger gross margins
by Rich Vurva
While sales of pandemic-related products in the U.S. were up by more than 70 percent in the second quarter for Grainger, it has taken a toll on the company's gross margin.
---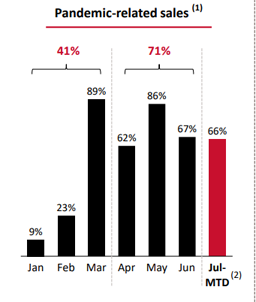 Gross margin declined by 3.1 percent from the same period last year, from 39.8 percent in the second quarter of 2019 to 36.7 percent this year. "While difficult to pinpoint, we estimate that pandemic-related headwinds accounted for approximately 60 percent of the gross margin decline in the quarter," said Tom Okray, senior vice president and chief financial officer. "These headwinds are multifaceted and include product mix impacts as well as we continued to sell significantly increased levels of lower-margin safety and cleaning products skewed more toward larger health care and government customers."
Further margin pressure came from sourcing high-demand products from non-traditional suppliers. That move included increased freight and handling costs to ensure expedient delivery of much-needed and critical supplies. "These dramatic but temporary pandemic-related impacts are not expected to continue once we return to more normal course operation," Okray said.
Gross profit margin at Grainger Canada declined 1.5 percent year-over-year, driven by the combination of aggressive pricing actions aimed at reinvigorating the customer base, pandemic-related mix impacts and lower vendor rebates.
"As we move into the second half of 2020, we anticipate gross margins will remain depressed as we expect pandemic-related impacts will continue," Okray said. "While we don't know how the situation will evolve as the year goes on, given what we know now, we anticipate improvement from the 290 basis point year-over-year headwind we saw in Q2, but to what extent will be largely dependent on the pandemic-related actions of our customers."