Posted January 13, 2022
Bear Grylls to keynote STAFDA convention
Adventurer and wilderness survivalist Bear Grylls has been announced as the keynote speaker for STAFDA's 46th Annual Convention & Trade Show.
---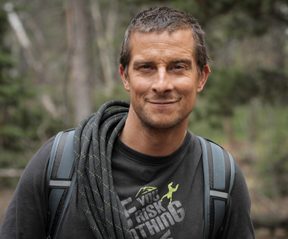 Grylls will speak during the association's General Session, Monday morning, Oct. 31, discussing Resilience & Overcoming Obstacles.
The event is scheduled for Oct. 30 – Nov. 1, at the San Diego Convention Center in San Diego.
Grylls first drew attention after embarking on a number of outdoor adventures then became widely known for his wilderness survival TV shows in the United Kingdom and America: The Island with Bear Grylls and Running Wild with Bear Grylls. For the latter, Grylls takes celebrities and professional athletes on a two-day trip into the wilderness where he pushes the boundaries on their physical capabilities and mental toughness.
The son of a British politician, Edward "Bear" Grylls got the nickname "Bear" from his sister a week after his birth. From an early age, he learned to climb and sail with his father. Then came skydiving and a second dan black belt in Shotokan karate. After college, Grylls briefly hiked in the Himalayan mountains of Sikkim and West Bengal. From 1994-1997, he served in the Territorial Army with 21 SAS as a trooper trained in, amongst other things, unarmed combat, desert and winter warfare, survival, climbing, parachuting, and explosives. Becoming a survival instructor, he was twice posted to North Africa. His time in the SAS ended as a result of a free fall parachuting accident in Kenya in 1996.
Some of his adventures include circumnavigating the British Isles on jet skis; climbing one of the most remote unclimbed peaks in Antarctica; setting a Parajet paramotor record in the Himalayas near Mount Everest where he looked down on the summit while coping with temperatures of -60 degree Celsius (-76 Fahrenheit) in addition to summiting Mount Everest at age 23, becoming one of the youngest Britons to have done so. Other adventures include the world's longest indoor freefall, an open-air formal dinner party in a hot-air balloon at 25,000 ft., and a 5,700 nautical mile trek in an ice-breaking, rigid-inflatable boat in the ice strewn Northwest Passage. The most notable thing about his adventures are they are all attached to a charity. Whether it's a children's charity (Global Angels), raising awareness of global warming, or The Prince's Trust, Bear always names a philanthropic organization to benefit from his extreme physical tests.
Grylls will not put any STAFDA Convention attendee to the physical rigors he's accustomed to, but his mental toughness tips in a COVID-laden environment should provide a refreshing and positive outlook on the world today.
STAFDA's San Diego Convention registration opens on Monday, June 27, at 8:00 a.m. Central from the members-only section of stafda.org. You must be a member to attend.