Posted January 26, 2023
Turtle & Hughes turns 100, charts next century of innovation
Turtle & Hughes, Inc., a privately-held industrial and power distributor, has launched the 100-year celebration of its founding on January 29, 1923, with a commitment to raise its own ambitious bar for driving sustainable solutions that will improve how people work, play, and live in a time of profound energy transition.
---
In keeping with the company's ethos of giving, Jayne Millard, executive chairman of the board and great-granddaughter of one of its founders, announced the company's goal to grant "100 Wishes for 100 Years," a fundraising campaign benefitting Make-A-Wish. Millard serves as vice chair of the board for Make-A-Wish International, whose mission is to create life-changing wishes for children living with critical illnesses, providing hope and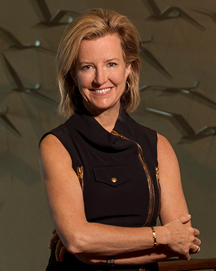 Jayne Millard
joy during an otherwise difficult time.
"We pledge to provide our employees with the tools and opportunities they need to advance their professionalism and care for their families," Millar said. "And together, we will complete the circle by making philanthropic contributions to advance the health and well-being of the communities we touch."
Milestones Head
As a fourth-generation, family-owned company – led by women through three eras including the present – Turtle & Hughes says it intends to power its next 100 years by enabling its private and public sector customers across industry to achieve significant milestones. Turtle said it will build on its track record to date, transforming infrastructure in major airports, railways, bridges and ports across the country; building micro-grids; creating energy efficiencies in health care, commercial and artistic spaces; and contributing to a NASA space launch project.
"With innovation at our core, we are a young company at heart. We expect to achieve great heights for our customers by delivering extraordinary technical expertise with passion and a deep understanding of their businesses," said Millard.
Millard proudly hails from a line of women who were ahead of their time. Ethel Macnamara Turtle, after navigating through the Depression with her husband M.B Turtle, took the reins in the 1940s. Millard's mother, Suzanne Turtle Millard, propelled growth by cementing strong customer relationships and an employee culture of trust. Jayne Millard, who has been at Turtle for 32 years and rose to CEO in 2010, has built the company's omni-channel delivery platform and drives its vision for transformative sustainability projects around the world.
"Turtle is in a unique position to help customers address their most challenging business issues. We represent some of the most respected manufacturers in North America, and bring our expertise to bear in working with them, our supply chain partners and our customers to design solutions with real impact," said Kathleen Shanahan, CEO of Turtle.
A few examples:
Airports: At Boston Logan International Airport, Turtle is advancing energy efficient LED lighting for Terminal E where President Joe Biden celebrated the bipartisan Infrastructure Investment and Jobs Act airport funding project. At LAX, Turtle contributed to the "People Mover" Airport Metro Connector Transit Station, so riders can transfer quickly and easily between the airport and metro systems. At JFK International Airport, Turtle is part of a major expansion including the new Terminal 1 and Terminal 6, partnering with Eaton Corporation to provide key electrical components.
Solar & Wind Balance of Systems. In Maryland, Turtle is providing all the balance of systems equipment for three solar installations that are expected to generate 34.5 million Kwh/year. Over the 25-year contract term, the anticipated greenhouse gas emissions reduction will be equal to removing 113,931 cars from the roads for a year.
Wastewater Plants: Turtle is partnering with Hewitt Young Electric for Chemung Waste Water Treatment Plant, the largest to be installed in Upstate NY in the last ten years.
Boston's Transportation System. As part of an $8 billion, 5-year capital investment plan by the Massachusetts Bay Transportation Authority, Turtle provides product and energy-efficient lighting packages to renovate public transportation, linking neighborhoods that historically did not have access to fast and reliable service. By increasing ridership by more than 50,000 trips per day, this project will significantly reduce vehicle emissions.
NASA Artemis program. To advance NASA's goal to put people back on the moon by 2024 Turtle partnered with Bechtel to supply LED lighting products in Stage 1 of the Mobile Launcher II construction. The majority of products came from Eaton's Crouse-Hinds.
"Much has changed since my great grandparents first opened our doors in 1923, but one thing remains constant: our ability to adapt and transform to the requirements of our customers, and our commitment to help each employee be the very best they can be — for themselves, their families, our customers and our company," said Millard.