Posted January 27, 2022
H.B. Carbide adds Mexico rep
H.B. Carbide has expanded its sales network into Mexico and Latin America.
---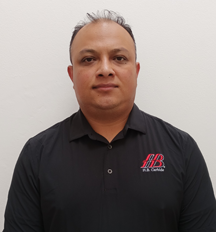 The Lewiston, Michigan-based manufacturer and global supplier of carbide blanks and pre-forms, has partnered with Bu-Mac Technology Solutions (Querétaro), led by Carlos Cortes as the local agent for all inquiries, technical, service, commercial requests.
"Carlos has knowledge and contacts in the area based upon 23 years of experience in carbide applications," said Jon Wyniemko, director of global sales. "His skill sets in combination with H.B. Carbide's 40+ years history will provide this region with excellent local support for all their tooling applications."
Bu-Mac Technology is dedicated to the supply and manufacture of parts with high hardness, such as those used in tooling, forming dies and wear tools and that rely upon alloys of tungsten carbide in varying degrees of hardness. It is recognized for timely response to customer requirements, as well as technical support for problem solving and decision making throughout a project.
H.B. Carbide manufactures tungsten carbide custom, standard and altered blanks and pre-forms in a comprehensive selection of grades.